How Should I Treat a Skin Abrasion?
Skin abrasions, also known as scrapes, are commonly caused by falls or accidents and usually occur on the hands, elbows, knees and shins. They typically tear off some skin, so it's important to treat them immediately. Some scrapes are shallow, and some rub off several skin layers. Deeper wounds might require a doctor's care, but minor scrapes typically can be treated at home. Learning how to treat a skin abrasion is easy to do by following the simple steps of assessing the depth, cleaning the wound and aiding the healing process.
Skin abrasions typically don't bleed very much and might ooze with a pink fluid. They typically are more painful than a simple cut because they expose nerve endings and take off more skin. Scrapes are more common in warmer months because more skin is exposed and less protected, so be sure to keep medicine available to treat a skin abrasion during the spring and summer seasons. Children typically have more skin abrasions because they tend to run and play more than adults, increasing their chances of collisions with carpet, pavement and other surfaces.
When someone has a scrape, the first thing to do is to stop the bleeding by applying pressure directly to the wound. Once the bleeding stops, look to see how badly and deeply the skin is wounded. If it's a minor scrape, then you can treat then skin abrasion yourself. Clean the area thoroughly with soap and water, then rinse it with an antiseptic such as hydrogen peroxide to prevent infection.
Treat a skin abrasion with a triple antibiotic ointment that has bacitracin, neomycin and polymyxin B. These antibiotics will help to prevent infection and scarring, and they usually speed up the healing process. Cover the wound loosely with a bandage to block dirt from entering the wound. Many people also consider going for a tetanus shot at this point, if the scrape occurred with metal or anything rusty.
No matter how you treat a skin abrasion, they typically heal at different speeds. Many minor scrapes will heal within a week, but larger skin abrasions can take up to two weeks to heal. Seeing some fluid drain from a skin abrasion is normal, as long as the wound is not infected. If the fluid changes color or emits an odor, have a doctor check to make sure the wound is not infected.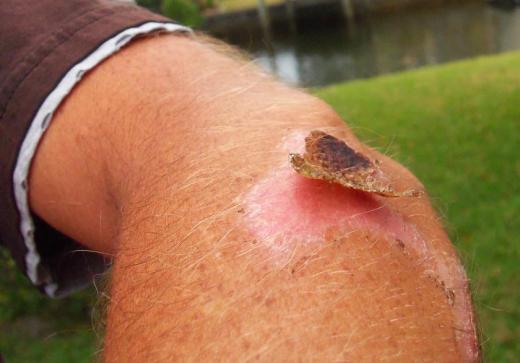 The scrape will begin to heal on its own, and a scab usually will form. Keep the area clean and treat it with antibiotic ointment at least once a day. New skin tissue will begin to form at the inner layers of the wound and move its way to the surface. When the skin abrasion heals, the scab will come off on its own.
AS FEATURED ON:
AS FEATURED ON:

By: motorlka

Treat a skin abrasion with a triple antibiotic ointment.

By: ILYA AKINSHIN

Cover abrasions with a bandage to keep dirt out.

By: WideAwake

Keeping abrasions clean and covered helps them heal.

By: Daniel Oines

When a skin abrasion heals, a scab will fall off on its own, so there's no need to pick at it.

By: 2xSamara.com

Most minor skin abrasions heal on their own as long as they are kept clean to avoid infection.

By: Daniel Oines

Skin abrasions are common on the knees and should be treated immediately.

By: salpics32

Compulsive picking at scabs may cause them to become infected.