Is It Safe to Use Epsom Salts?
Epsom salts are made from magnesium sulfate, which is a chemical compound that contains magnesium and sulfur. These salts have been used for centuries for a number of uses ranging from farming to medical applications. Whether or not they are safe largely depends on how they are used.
Using Epsom salts as a laxative is quite popular, though this use may also be harmful to your health. Even though the Food and Drug Administration within the United States has stated that these salts are safe to ingest, some researchers and scientists do not agree with this claim. Those who disagree with the ingestion of these salts claim that too much magnesium can harm the body and may even result in death.
Before ingesting Epsom salts, make sure to consult with your doctor. These salts can be a great alternative to other laxatives that may not be as gentle on your body, though only your doctor can determine what kinds of laxatives you should be taking. If any amount of cramping occurs following an Epsom salt-based treatment, stop using these salts immediately. This is especially true if you are pregnant or breastfeeding.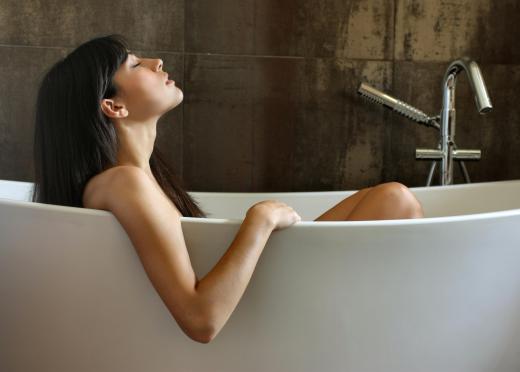 Many people use Epsom salt gel to relieve pain caused by fibromyalgia and osteoporosis. In addition, these salts can be used for a number of ailments including boils, abscesses, herpes, shingles, and muscular pain. Also, this substance is believed to reduce swelling and inflammation, which is why these salts are often added to a hot bath.
Whether you plan to soak in Epsom salts or to ingest them, using more than a package directs is never a good idea. The contents of packaged salts do not change too much from manufacturer to manufacturer, so selecting any product will likely provide the same results. These salts should not be confused with sea salt, table salt, or any other kind of salt. Epsom salts are largely in a category all its own, and should never be used as a substitute for sea or table salt. They can be purchased online, in pharmacies, and even in most supermarkets.
AS FEATURED ON:
AS FEATURED ON:

By: Jiri Hera

Epsom salts.

By: olly

Epsom salts are sometimes added to a hot bath to reduce swelling and inflammation.

By: concept w

Water-based solutions of magnesium sulfate are used to rejuvenate sore muscles, treat back pain, and to recover from the pain of childbirth.

By: peterjunaidy

Many people use Epsom salt gel to relieve pain caused by osteoporosis.

By: bit24

While sea salts are safe to ingest in small amounts, the safety of consuming epsom salts is disputed.

By: librakv

Epsom salts may be used to help ease shingles.

By: Anna Omelchenko

Adding Epsom salts to bathwater may help prevent or alleviate muscle soreness.