Is It True That Writing on Skin Is Unhealthy or Risky?
In general, occasionally writing on skin with water-based inks is considered non-hazardous. Concern arises when people write on their skin frequently with permanent ink, or with inks that have certain coloring agents. If one is writing on skin on purpose, then using skin paint or skin ink is a far better choice, although even water-based inks may cause some skin irritation for some people.
The primary concern with writing on skin with permanent ink is that permanent ink may contain xylene. Xylene is a toxic substance, though toxicity is normally linked to inhalation. A mark or two of permanent ink on the skin because one is using a permanent pen is not likely to cause significant harm.
People can cause damage to their skin however, by cutting the skin and then writing on skin with a permanent marker. This is a type of amateur tattooing that can be very difficult to get rid of and may cause skin irritation and infection. Usually, if this occurs, one must see a doctor in order to get rid of the marking and treat infections.
Some permanent inks now use an alcohol-based substance instead of xylene. While this is less hazardous than xylene, it still may irritate the nose, throat, mouth and sensitive skin. Both types of permanent ink pens are more hazardous if the ink is ingested or large quantities of ink are inhaled. However, most doctors recommend avoiding writing on skin with any type of permanent ink.
Further if one has a child writing on skin with permanent ink, it is very important to ignore most Internet advice given for removing such writing. It will fade in time, or many use alcohol handwash to diminish appearance. Many people suggest using bleach, but this is a very unsafe practice that can further damage skin, and can also be dangerous in small amounts if inhaled.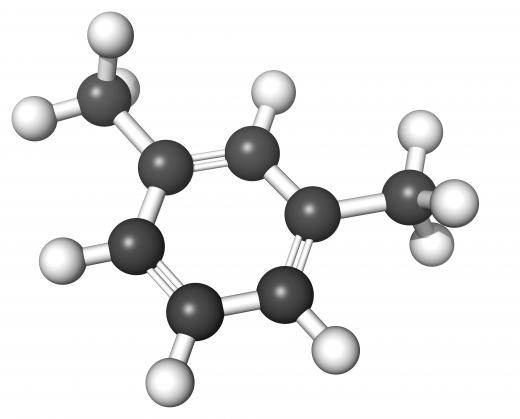 If a child seems to be unable to avoid writing on skin, keep only water-based, non-toxic markers on hand. Conversely, let the child write on his or her skin with specially designed non-toxic body paint or inks. Water-based inks tend to be easily removed as well.
Scented inks, popular with children, are not a good choice. These, too, can be permanent and may contain xylene or other solvents. As well they may encourage young children to eat their art or suck on the markers. Ingestion of xylene is hazardous.
Dyes in inks can also be a potential irritant. Some inks will now only work on special paper and these are probably the best for children who want to write on themselves or the walls, for instance. With regular inks, such as those used in ballpoint pens, writing on skin is not considered dangerous, though the occasional person might be irritated by the dyes in inks. Normally for such ink to be considered poisonous, one would have to ingest three or four penfuls of ink. The occasional writing on skin with a ballpoint pen, uses a tiny amount of ink, and is thus not considered harmful.
Writing on the skin can be playful, accidental, and sometimes necessary. Some people love to be creative and get artistic. People even draw on themselves to display artwork on their skin.
Toxic ink poisoning is a common rumor and a widespread myth. It is time to put everyone's minds at ease and know which pen inks are unhealthy or risky to use on the skin.
Ballpoint Pens 
Ballpoint pens are the most widely available. The ink in these pens is oil-based and intended for writing on almost any medium. Oil-based inks are believed to be potentially harmful due to the solvents such as xylene and toluene and the acidic ph value.
In the past, when the ink of ballpoint pens was deemed unsafe, there was a lack of regulations. Times have changed since then. Safety regulations and policies are now strongly enforced. Nowadays, the ink does not contain most of the toxic chemicals associated with ink poisoning. 
Generally, the ink from a standard ballpoint pen is non-toxic on the skin.
Felt Tip Pens
Pressed felt fibers make up the tip of the felt tip pen. Felt tip pens can dispense various types of inks such as water-based, acid-based, oil-based, acid-free, and permanent ink. 
As with all pens, the felt tip pen with water-based ink is safe on the skin. Water-based inks use water as a solvent and are less acidic compared to oil-based pens. This type of ink is safer to use and easily washes off.
Gel Pens
These pens are the ideal medium when a person wants to use their body as a canvass. The ink in the smooth-writing pens is made with a water-based gel. Lower toxicity levels in gel pens make them safer to use on the skin. The water base is also easier to wash off and will not cause any irritation when removing it from the skin.
Sharpie Markers
Sharpie is a brand of permanent markers that carry a strong smell. The odor and long-lasting ink in these markers seem like a dangerous type, but they are generally safe to use on the skin. Ink in sharpie markers does not contain any toxic ingredients that can cause poisoning.
However, while the ingredients may not be toxic or poisonous, permanent markers may still be harmful in other ways due to other ingredients. The xylene, alcohol, and acetone ingredients of sharpie markers can irritate the skin. Therefore, avoid these types of markers when looking to write on skin.
How Long Before the Ink Goes Away?
When the skin suffers from irritation, it could peel after becoming dry and flaky. The surface of a person's body is made of dead skin cells which constantly shed away little by little. Therefore, one needs only to wait a few days for any permanent ink to disappear on its own through the shedding process.
Here's what one must do when ink gets on their skin:
Immediately wash the area with soap and water
Avoid having ink contact the eyes
Avoid putting ink into the mouth
Air dry or pat dry after washing
How Do You Avoid Ink Poisoning?
While many pen inks are AMCI certified to be non-toxic, there are some instances where one could become poisoned by having ink applied on their skin. For instance, if one has itchy bug bites that have been scratched and broken and then pen ink is applied to the area, the ink could likely make its way into the bloodstream.
Manufacturers generally advise against using marker ink on the skin. However, if the ink has been inadvertently applied, there's no need to worry if the affected area has no broken skin. Ink will usually just dry up and remain harmless.
Should You Worry?
There is no need for alarm. Although our skin is highly absorbent and can absorb toxic chemicals into the bloodstream, the amount of ink you expose yourself to would need to be high for it to be potentially harmful.
Ballpoint, felt tips and fountain pens do not contain enough ink to be poisonous or dangerous. All types of ink can irritate your skin but there are no reports of serious poisoning caused by ink exposure.
Writing on your skin daily with any pen and ink can cause irritation and possible harm. It is best to limit your doodles and scribbles on your skin to a minimum. Be mindful of how often you write on your skin. Reach for a paper whenever possible.
Otherwise, you can draw on yourself when you're feeling inspired or need to do so without fear of dangerous, toxic ink poisoning. Simply wash away most of the ink with soapy water and wait for the body to naturally shed away the inked skin cells.
Frequently Asked Questions
Is writing on skin permanent?
Skin writing is not permanent, though. It might persist for a few days to a few weeks, depending on the pen or marker that is used. Use a semi-permanent tattoo pen or marker, which can persist for several months, if you want the writing to last longer. You should be warned that these pens' ink or dye may contain substances that can irritate the skin or trigger allergic reactions.
Is it harmful to write on your skin?
As long as you use safe, non-toxic materials, writing on skin is generally not seen as harmful. For instance, stay away from using permanent markers or pens that have harmful compounds like formaldehyde, toluene, or xylene in them. Cleaning the area both before and after writing on it will also help lower the risk of infection.
Is writing on skin painful?
No, writing on the skin typically doesn't hurt. It might be painful, though, particularly if you use a pen or marker with a sharp edge. After writing on their skin, some persons could also have a mild case of skin irritation or redness.
Does writing on skin cause any long-term effects?
It is unknown whether writing on the skin will have any long-term impact. It's crucial to keep in mind that some pens or markers' ink or dye may contain substances that can be absorbed via the skin. Therefore, it's crucial to choose substances that are non-toxic and made exclusively for skin application.
Can writing on skin be removed?
Skin ink can typically be erased, yes. You can attempt to erase the ink if you use a pen or marker that isn't meant to be used on skin by using rubbing alcohol or an oil-based makeup remover. Use a specific removal lotion or an exfoliating scrub to help the ink disappear if you used a semi-permanent tattoo pen or marker. 
AS FEATURED ON:
AS FEATURED ON:

By: Zdenka Darula

Writing on skin with water-based ink is not considered harmful.

By: pzRomashka

Permanent markers contain xylene which is a toxic substance.

By: molekuul.be

Permanent ink can contain xylene, a toxic substance, but a few marks should not cause any health concerns.

By: JackF

Most doctors advise people not to write on their skin with any kind of permanent ink.