The nonstick coating used in DuPont's Teflon® pans has been found to release one or more of 15 different toxic gases when heated to certain temperatures, but is generally safe when used according to manufacturers' specifications. Which chemicals are released depends on the temperature of the pan. This outgassing can be fatal to pet birds and can cause "polymer fume flu," also known as "Teflon® flu," in humans.
Teflon® flu creates flu-like symptoms of chills, headache, fever and nausea. Usually, symptoms subside within a few days, and chances are many people who have experienced it mistook it for the flu. However, there are also more serious risks.
One of the main chemicals used in the manufacturing process of Teflon® and other nonstick pans is perfluorooctanoic acid (PFOA) also known as C-8. This chemical has led to cancer and birth defects in lab animals, and may have led to birth defects in DuPont plant workers. In 2005, an independent panel reporting to the Environmental Protection Agency (EPA) declared PFOA a likely human carcinogen.
Though DuPont is quick to point out the safety of Teflon® and to distance it from the chemical PFOA, studies show Teflon® cookware releases PFOA when heated to 680°F (360°C). This temperature can be reached fairly quickly, for example, a forgotten pan is left empty preheating on a very hot burner. DuPont acknowledges this, but points out that this is incorrect use of the cookware.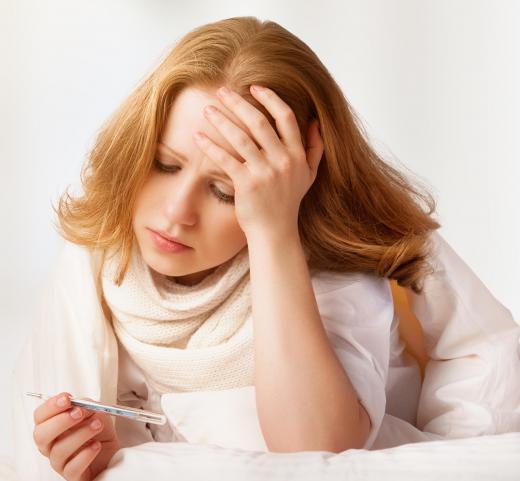 In April 2003, the Environmental Working Group (EWG) filed a petition with the Environmental Protection Agency (EPA) to take action against DuPont for what it classified as an 18-year cover-up regarding the dangers of the Teflon® chemical PFOA. Factory workers exposed to PFOA inside the Teflon® plants had high levels of the manmade, indestructible chemical in their blood. This included seven pregnant women and their fetuses, which also showed elevated levels of PFOA.
DuPont's own research suggested a link between PFOA and rare birth defects in animals. Of the seven pregnant women at the West Virginia plant, two of the seven babies born bore similar serious birth defects. In response to the EWG petition, the EPA fined DuPont 16.5 million US dollars (USD) in December 2005 for failing to report the dangers of PFOA.
Related chemicals used in the process of non-stick cookware are sometimes referred to as "Teflon® chemicals" or perfluorinated chemicals. This family of chemicals includes fluorotelomers, used in non-stick food packaging and stain resistant products for clothing, furniture, and carpets. Fluorotelomers break down to PFOA in the environment and bloodstream, but PFOA does not break down. Studies have revealed that 95% of all men, women and children in the United States have traces of PFOA in their blood due to exposure to various industrial products that use this nonstick chemical. PFOA has also been found in the environment and in wildlife.
While DuPont remains insistent that Teflon® is safe and inert with proper use, it voluntarily pledged to substantially reduce environmental emissions and to phase PFOA out by 2015. DuPont also urges consumers to use Teflon® responsibly and considers overheating or burning food abusive use of the cookware. Teflon®, and all cookware that uses nonstick coatings, should not be preheated. Use low-to-medium heat and do not allow food or oil to burn. According to peer-reviewed studies as reported by the EWG, nonstick cookware, including Teflon®, begins outgassing particles at 396°F (202.2°C).
If you own pet birds, Teflon® and nonstick cookware is not recommended. Note that stovetop burner drip pans may also have nonstick coatings. These drip pans can reach very high temperatures.
A nonstick alternative to Teflon® is baked enamel cookware, or porcelain cookware. This cookware is inert at all temperatures, is dishwasher safe, and according to many professionals, cooks all types of food superbly, making it one of the best cookware for glass top stoves. Stainless steel, aluminum and cast iron are other alternatives, though these require cooking oil to prevent sticking.
AS FEATURED ON:
AS FEATURED ON:

By: Aaron Amat

The Teflon® used in non-stick cookware has been known to contain potentially hazardous elements, but is generally safe when used properly.

By: alekc79

The bottom of an iron with a Teflon® coating.

By: evgenyatamanenko

Fever can by a symptom of "Teflon® flu."

By: mitev

Washing Teflon® in the dishwasher can damage it significantly.

By: Tatyana Gladskih

Teflon flu symptoms may include chills.