Is Wearing Flip Flops Bad for Your Back and Feet?
Wearing flip flops was once considered a fashion faux pas; a shoe reserved only for beach goers or a quick stroll to the mailbox on a hot summer day. However, in recent years, these shoes have become considerably more fashion forward, if not perfectly acceptable footwear for lunch, a dinner date, or even a congressional meeting at the White House. In fact, flip flops have become so popular that many major designers from J. Crew to Lands' End are designing them for the masses. However, sports medicine and podiatry experts are warning that wearing flip flops could be bad for our bodies.
There are many reasons why wearing flip flops could be harmful to our bodies and the scientific studies are there to back it up. As a rule, flip flops are not particularly supportive shoes even if they are comfortable and cool to wear. There is virtually no arch support to these shoes and wearing them excessively can in fact impact the feet, legs, and lower back.
Further, by sheer nature of design, flip flops cause the wearer to change his or her gait. Because the shoe isn't exactly designed to conform to the foot, it doesn't stay on well. In order to walk without losing a shoe, people subconsciously change the way they walk. Over a long period of time, excessive wearing of flip flops could lead to foot, leg and back pain.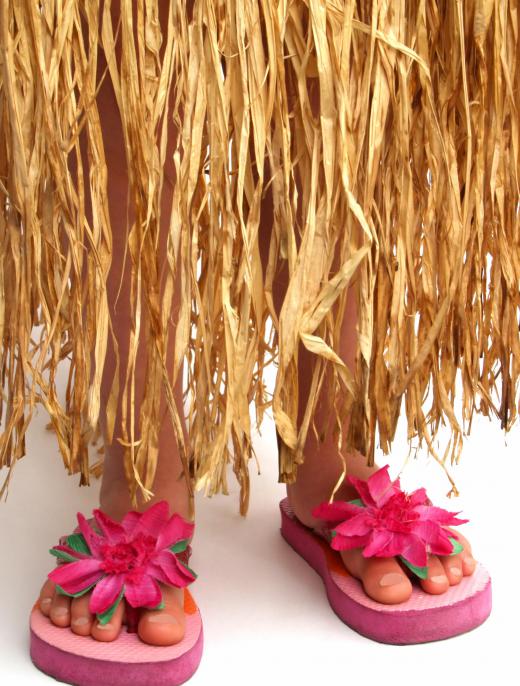 The long-term effect of wearing flip flops has been cautioned against, but some podiatrists also warn of short-term effects. Wearing them instead of more appropriate footwear for certain activities, especially when excessive walking is involved, can lead to injured feet and ankles. The stability of flip flops is lacking, making it more likely to slip, trip, fall and subsequently twist an ankle.
Without having to give up wearing flip flops entirely, experts recommend limiting their use. For activities that require excessive walking or activity, such as shopping or gardening, consider wearing a more appropriate shoe. When shopping for flip flops, avoid the poorest made varieties that can easily twist in your hands. Instead, look for sandals that have a sturdier, thicker, well made sole. There are a also a few varieties that are designed with foot health in mind. Though less fashionable, these flip flops offer some support and stability beyond the traditional flat-soled shoe.
AS FEATURED ON:
AS FEATURED ON:

By: mangostock

Flip flops offer no arch support, which can lead to back pain.

By: sparkia

Flip flops can cause a change in gait.

By: Mikael Damkier

Flip-flops, also called thongs, are a popular summer shoe but often lack arch support.

By: Monika Wisniewska

Flip flops are unstable and could result in an injured foot or ankle.