Should I Be Concerned about Baby Freckles?
Freckles are caused by overactive skin pigment-producing cells. These dark spots typically become more noticeable after a person's skin is exposed to sunlight. Baby freckles are somewhat rare, but they are not unheard of. Freckles are usually harmless, and there is usually no cause for concern if your baby has them. If your baby has freckles, however, it is usually a sign that he has been exposed to sunlight, so you should make sure he is protected from the sun's damaging rays.
Freckles are the small spots on a person's skin that appear slightly darker than the rest of the skin. These may be tan, brown, or rust colored, and unlike moles, they are flat. Freckles are typically caused by groups of skin cells that contain more pigment-producing cells than the skin cells around them.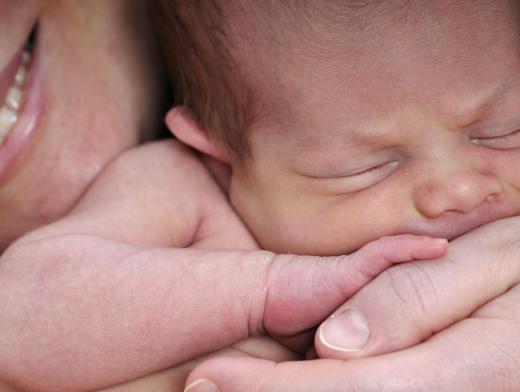 Sunlight is usually the cause of most freckles. When the ultraviolet rays of the sun shine on these abnormal skin cells, they produce more melanin, or pigment, which creates freckles. Many experts also believe that freckles are hereditary. Baby freckles are considered somewhat unusual, but it is not impossible for them to develop. Most children, however, will not usually get freckles until they are a few years old.
Most baby freckles are harmless. Normal small freckles will hardly ever develop into a serious medical condition, such as cancer. If your child develops baby freckles before he is a year old, or he has very large freckles you may want to speak with his pediatrician. He will most likely be able to confirm that these dark spots are freckles and not moles.
Moles are very similar to freckles, and the two can sometimes be confused with each other. Unlike freckles, however, moles may be located on areas of the skin that are not often exposed to sunlight, such as the back. Moles are also usually larger than baby freckles, and they may be raised, whereas freckles are flat. These dark spots should also be monitored carefully for any unusual changes.
The only thing that you should be concerned with regarding baby freckles is that their appearance means the baby is being exposed to the sun. Skin, especially a baby's sensitive skin, can be easily damaged by prolonged exposure to the ultraviolet rays emitted by the sun. Your baby should be dressed in protective clothing, such as long sleeves and pants, whenever he is exposed to the sun. Baby sunscreen should also be applied to any exposed areas of skin, including the face and hands.
Do Newborn Baby Freckles Go Away?
True freckles rarely disappear entirely at any point in a baby's development. However, repeated exposure to sunlight will make them darker in appearance. As a baby ages, parents might notice that the baby's freckles fade significantly throughout the winter and then come back during the summer months. This is normal and is no cause for alarm. 
Once a baby is grown, there are a few options for having freckles reduced, such as laser treatments, serums, and chemical peels. These are entirely cosmetic and won't guarantee new freckles won't appear. If a baby has freckles, it's best to keep an eye on anything suspicious, but otherwise, leave them be.
Conditions That Mimic Baby Freckles
Besides moles, there are a few other skin conditions that are easily confused with freckles but are not the same thing. Telling the difference can be tricky but not impossible. Below are a few conditions that mimic the appearance of freckles.
Birthmark
Birthmarks are flat, dark spots on the skin. They're often larger than freckles and moles and may not be round at all. They can be many different colors ranging from brown to purple or red. They are often larger than freckles and moles. While it's typically easy to tell them apart from freckles, they are sometimes small enough to be confused for the other. 
Pustular Melanosis
Pustular Melanosis is a type of rash that newborns get right before or shortly following birth. The tiny blisters are harmless; after they rupture, they will leave behind small dark spots. These spots will fade within a few weeks and shouldn't leave any scarring. 
Miliaria
Miliaria is a type of rash that occurs when someone is exposed to too much heat. People of any age can develop this condition, but infants are particularly susceptible. Because their bodies are still developing, they are at higher risk of blocked sweat glands and ducts. Treatment for this condition includes moving to a cool space or applying a wet cloth.
When To Be Concerned About Freckles
The vast majority of freckles are harmless. It can be helpful, however, to know when to be concerned about them. Appearance, texture, and discomfort are all things to keep an eye on when checking freckles.
Appearance
Freckles should be round, symmetrical, and have a complete border. This means that if it looks lopsided or suddenly appears to be bleeding into the surrounding skin, it's worth getting checked out. It's a good idea to note any color changes.
Texture
Freckles should be flush with the rest of the skin. If they're raised, it's a good indicator that they are moles rather than freckles. They also should be the same texture as the rest of the skin. In a newborn, this will be very soft and smooth. If freckles become rough or flakey, they should be addressed by a professional.
Discomfort
It can be difficult to tell if a baby is being made uncomfortable by a freckle. Parents can generally determine signs of discomfort by looking for things such as crying or squirming. If they are old enough to locate the freckle, it may appear scratched, red, or even bleeding. 
Who Is Most Likely to Develop Freckles?
Anyone of any nationality can develop freckles. Because they are most commonly a symptom of sun exposure, they can happen to anyone, no matter their heritage. 
However, a few factors can increase a person's chance of developing freckles. Many experts agree that freckles are hereditary. If one or both of a baby's parents have freckles, there's a high chance that their baby will also develop freckles as they get older.
It's also more common for people of fair skin to develop freckles. Fair skin is more sensitive to UV rays, although this isn't always true. Plenty of people with darker complexion also develop freckles as they age.
Freckles in History
Freckles were first mentioned in the 14th century. At one point in history, they were thought to be a witch's mark, but this superstition has given way to more positive interpretations. Some cultures view them as a sign of individuality, beauty, and spirit. Many people consider them youthful since they're often most adored on the faces of young children.
AS FEATURED ON:
AS FEATURED ON:

By: massimo maghenzani

Most baby freckles are harmless.

By: Uncleraf

Sunscreen should be applied to babies when skin is exposed to the sun for prolonged periods.

By: F.C.G.

Moles are very similar to freckles, and the two can sometimes be confused with each other.

By: christingasner

Most children will not get freckles until they are at least a few years old.

By: BlueOrange Studio

Some children are genetically predisposed to being more sensitive to sun damage, and should reapply sunscreen frequently.