What are Campbell De Morgan Spots?
Campbell de Morgan Spots are also called cherry angioma or hemangioma. They are small red spots that tend to occur in people over the age of 40. These spots can occur with greater frequency as individuals get older, sometimes leading people to call them senile angioma. They are normally found on the trunk of the body, usually no larger than about 0.25 inches (0.64 cm) across. Some are pinprick sized and barely noticeable.
The bright red or purple color of Campbell de Morgan Spots results from tiny capillaries at the skin's surface clustering together and dilating. They are not harmful, and are considered a benign skin growth. The spots are not painful, but some are prone to bleeding when scratched or bruised. People may want them removed simply because they find their presence annoying or unsightly. From a purely medical perspective, they don't require removal unless they're prone to bleeding frequently.
When they are removed, medical professionals usually use one of three different methods. Cryotherapy is the most common, and it uses liquid nitrogen to essentially freeze off the Campbell de Morgan Spots. Electrosurgery is minor surgery, using a small needle that generates electricity to disrupt and remove an angioma. Laser removal is also possible. These procedures tend to leave very little scarring, if any.
In some cases, Campbell de Morgan Spots do get larger, and in these cases, it is usually a good idea for a person to have them removed. Sometimes, the healthcare professional will perform a biopsy to be certain that the spots are indeed harmless angioma, but this is often unnecessary since they are well recognized by the medical community. Larger spots may be slightly more prone to bleeding and a bit more scarring when removed.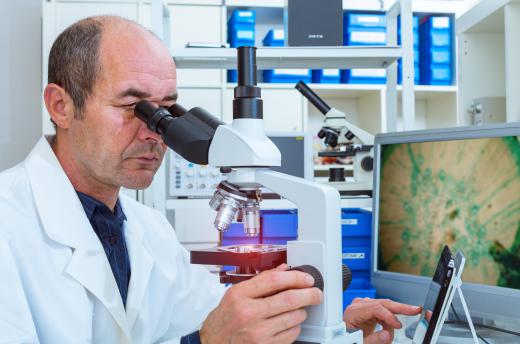 Medical professionals don't really know what causes Campbell de Morgan Spots, though it is theorized they simply represent one of the aging factors of skin. They occur with equal frequency in both men and women, and they tend to be more common as people age. Some people seem more prone to getting these spots than do others, suggesting that certain skin types or population groups may be more at risk.
Fortunately, the spots do not pose any type of threat to most people. They don't indicate skin cancer, and they usually don't require any type of treatment. As with any skin growth, however, people should have any new skin growths examined by a medical professional to rule out cancer or another serious condition.
AS FEATURED ON:
AS FEATURED ON:

By: markara

Liquid nitrogen can freeze off Campbell de Morgan spots.

By: F.C.G.

Campbell de Morgan spots pose no health risk, but can be removed for cosmetic reasons.

By: luchschen_shutter

After removal, a pathologist may look at the angioma under a microscope to ensure it is benign.

By: mariesacha

Campbell De Morgan spots may occur as a result of aging skin.

By: Raymond Gregory

Laser therapy can be used to remove Campbell De Morgan Spots.