What are Common Causes of Bloody Mucus in the Stool?
Bloody mucus in the stool is commonly associated with inflammatory intestinal conditions like, Crohn's disease, and ulcerative colitis. If a patient is already in treatment for a bowel condition, bloody mucus in the stool should be noted and reported, but it is not usually a cause for immediate concern. Patients who have no history of intestinal problems and notice this symptom should contact a doctor for evaluation and treatment as soon as possible.
Some mucus is usually present in the stool, albeit in trace amounts. Mucus is produced by the lining of the bowel as a lubricant to keep the bowels healthy and flexible, and sometimes the levels fluctuate in response to diet and other factors, like stress. Bloody mucus in the stool, however, is a cause for concern, as it indicates that there is a problem somewhere along the length of the intestines. The stool may also have a softened appearance and patients can experience bowel urgency and other symptoms as well.
When the bowel is inflamed, mucus production tends to increase, and ulcerations can develop, causing a leakage of blood into the stool. In addition, people can develop bloody mucus in the stool as a result of an infection, particularly if bacteria are involved, or because of an anal fissure, hemorrhoid, or bowel obstruction. Signs like abdominal bloating and tenderness or painful defecation can help narrow down the causes of bloody mucus in the stool.
In people who notice changes in bowel habits, including a change in the frequency of defecation or the appearance of the stool, bloody mucus is a cause for concern. It is advisable to call a doctor to see if a stool sample needs to be collected and to make an appointment for an examination. A doctor can evaluate the patient and determine what steps, if any, need to be taken for treatment. Antibiotics may be prescribed along with a bowel protectant to address the potential for infections and ulceration in the bowel.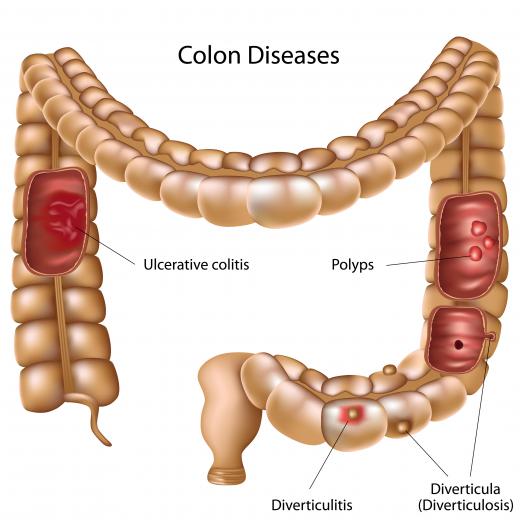 People with a history of bowel problems may periodically have this symptom, and it usually is indicative of a flareup somewhere along the intestines. If it persists, a doctor should be consulted to discuss changing the treatment plan. People with cancers of the intestines can also develop this symptom, particularly at the end of their lives as they focus on supportive care for comfort, rather than aggressive treatment.
AS FEATURED ON:
AS FEATURED ON:

By: Photographee.eu

A doctor may need to be consulted if an individual experiences bloody mucus in the stool.

By: Photographee.eu

A doctor may prescribe antibiotics to a patient experiencing bloody mucus in the stool to prevent infections in the bowel.

By: Alila

A diagram showing ulcerative colitis and other colon problems that could cause bloody mucus in the stool.

By: nebari

Ulcerative colitis may cause bloody mucus in the stool.

By: bruno135_406

Bloody mucus in the stool is cause for concern.

By: luchschen_shutter

Stool samples that are collected at home are usually placed into plastic containers.