What are Common Causes of Bloody Mucus?
The cause of bloody mucus discharged from the nose is commonly either an infection or nasal allergies. Other factors that may produce bloody mucus may be blunt force trauma or other injury. Certain conditions of the nasal septum or lung disease may also cause bloody mucus. Sinusitis is another cause. Nasal tumors may also produce bloody mucus.
When a person develops an upper respiratory infection such as the common cold, the mucus membranes produce excessive mucus that may be spotted with blood. This could be due to constant nose blowing and irritated nasal passages. This is typically a harmless situation and any noticeable bloody mucus usually disappears once the cold has run its course.
Occasionally, dry air or lack of humidity can cause bloody mucus, which the individual may notice when he blows his nose. This is especially common upon waking in the morning. Dry air can inflame the nasal passages, causing the blood vessels to enlarge and bleed. The blood may be noticeable in nasal discharge or mucus.
Diseases of the lungs can produce blood in the mucus that can be seen when coughed up. Tuberculous and lung cancer are two such diseases. Bronchitis, which is an infection of the bronchial tubes, typically bacterial in nature, may produce blood in mucus. Pneumonia, which inflames the lungs and causes infection, may also produce mucus that is mixed with blood.
Cystic fibrosis (CF) is a genetic disease that causes patients to cough up thick mucus. Occasionally, the mucus may be tinged with blood. Patients suffering from CF may be more prone to developing recurrent respiratory infections.
Many women experience bloody cervical mucus during monthly reproductive cycles, and in most cases this is normal. The blood may be spotting, which occurs directly after monthly menstruation. Sometimes cervical mucus tinged with a small amount of blood may occur after a woman engages in sexual intercourse for the very first time. This is typically nothing to be concerned about and will generally resolve on its own.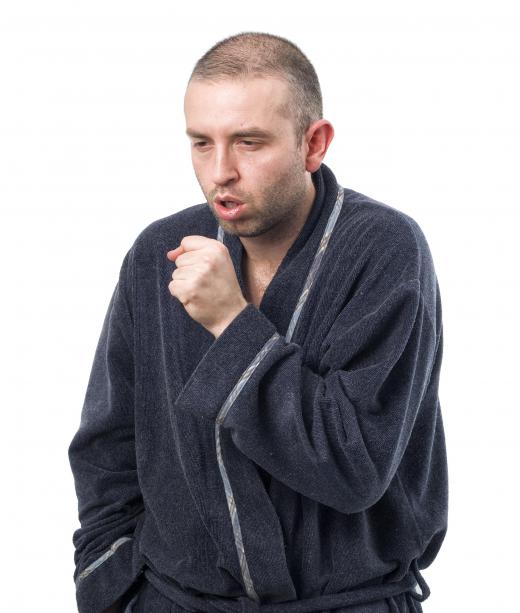 Bloody mucus in the stool may be caused by various gastrointestinal conditions. A viral or bacterial infection of the gastrointestinal tract is one cause. Patients suffering from inflammatory bowel conditions may also notice bloody mucus in the stool.
Occasionally, diverticulitis may produce these symptoms as well. Diverticulitis manifests with small intestinal pockets that have become inflamed and infected, causing severe pain and fever, as well as mucus in the stool. The mucus can sometimes be spotted with blood. When infection is present, a physician may prescribe a course of antibiotics.
AS FEATURED ON:
AS FEATURED ON:

By: Deymos

Several lung diseases, like tuberculous and pneumonia can cause bloody mucus.

By: Tyler Olson

Blunt force trauma or other injuries may cause blood mucus.

By: ramonespelt

Coughing can be a symptom of a deeper medical problem.

By: matka_Wariatka

Spotting that occurs after menstruation is typically nothing to worry about.

By: joshya

Cystic fibrosis can sometimes cause patients to cough up thick mucus that may be tinged with blood.

By: fabianaponzi

The common cold can cause excessive mucus that may be spotted with blood.