What are Different Types of Balance Exercises?
Different types of balance exercises may focus on different areas of the body, though the core abdominal muscles are some of the most important exercises for improving balance and posture. Other balance exercises may target the muscles of the back and the legs, which are also quite important for balance. This may include yoga or Pilates exercises, simple stretching exercises, weight lifting, or working with props such as a stability board or balance ball.
Working with a stability board is one of the most common balance exercises. There are different designs for these boards, but typically they feature a non-slip plank atop a rubber ball. The user stands with both feet on the plank and attempts to make small corrections to stay balanced on the board without letting it tip from side to side. Height variations are available, and people who get more practiced at this will often try other exercises on the balance board, such as jumps, steps, or twists.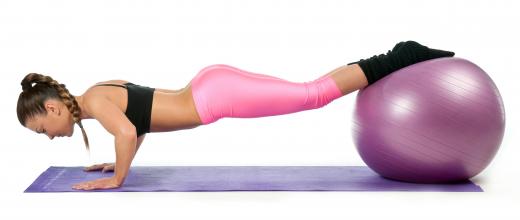 A balance ball or exercise ball is also commonly used for balance exercises. One may attempt to sit, stand, kneel, or do push-ups or crunches on the ball. These exercises help to increase strength, but they also require constant small corrections in the muscles all throughout the body to prevent rolling right off the ball. Some people also use a balance ball in place of a desk chair to help with posture, strengthen the abs, and do balance exercises while still working at a desk.
Yoga and Pilates are also excellent sources of balance exercises. These stretching exercises often focus heavily on the core muscles, which improve posture as well as balance. In addition, there are numerous exercises that require standing on one foot while maintaining control of the body. Whenever one is practicing balance exercises that require standing on one foot, it is best to place a chair or some sort of balance bar in front in order to prevent any falls.
Some people use weight lifting in conjunction with these exercises to strengthen the muscles of the legs as well as improve balance. Playing a sport, even just recreationally, can also help to improve balance because it improves coordination. All of these things work together to keep the body balanced and upright, so it is best not to neglect one area of the body in favor of exercising another; a well-rounded exercise program will inherently improve balance.
AS FEATURED ON:
AS FEATURED ON:

By: bertys30

Balance balls can be incorporated into an aerobic workout.

By: solovyova

Yoga poses work the core muscles, which improves posture and balance.

By: Gerhard Seybert

Balance exercises are important for developing coordination and motor skills.

By: and.one

Stretching exercises often focus on the core muscles, which improve balance.

By: kasto

A person with a balance disorder may also experience a diminished sense of proprioception, the way in which mind orients itself to changes in the body's position, motion and equilibrium.