What are Paraffin Wax Treatments?
Paraffin wax treatments are luxurious spa treatments that are intended to moisturize and soften the skin. Paraffin wax treatments are most often applied to the hands and feet as components of manicures and pedicures respectively. Paraffin wax is unlike more common spa wax that is used for hair removal on the face and body. That type of wax is much more viscous and bonds to the skin.
Paraffin wax is a softer wax because of the paraffin oil component. Because it is a soft wax, it melts at a lower than normal temperature. This means that the skin can be submerged in the wax without causing burning or blistering. Spa specialists melt blocks of paraffin wax in special vats. During these treatments, beauticians have their clients dip their hands or feet into the melted wax one or more times to coat the skin in a generous layer. The hands or feet are then wrapped in plastic, or some other non-absorbent material and left to "soak" in the layer of wax for up to half an hour.
Paraffin wax treatments are particular popular in the winter because they are warming and because they help moisturize dry and cracked skin. During these treatments, the skin is bathed in warmth, which helps the pores to open and the skin to soften. Because the treatments are meant to be soothing, calming oils are often added to the wax in order to add a dimension of aromatherapy to the experience. Lavender treatments are common in posh spas.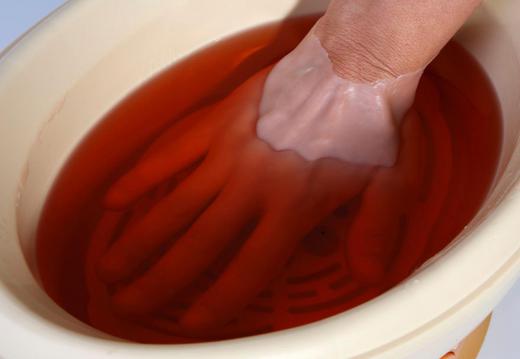 Once the skin has been allowed to soak in the wax and the layer has hardened, it can be pulled off in one solid piece. Because the wax is soft and contains oil, it does not become very stiff and does not adhere to the skin. Rather, after a paraffin wax treatment, the skin is left slick and soft.
People who experience seasonal dry skin often find these treatments to be helpful and relaxing preventative measures. Dry, cracked heels and knuckles can make cold weather unbearable. One or two moisturizing paraffin wax treatments can help a great deal during snowy months. If you are interested in purchasing paraffin wax treatments for yourself or as gifts, get in touch with the spas in your area to see if they are offered.
AS FEATURED ON:
AS FEATURED ON:

By: Couperfield

A manicurist removing hardened paraffin from a client's hand.

By: muehlberg

A woman dipping her hand in melted paraffin.

By: dusk

Many posh spas offer lavender paraffin wax treatments.

By: Tiler84

A paraffin wax treatment may help prevent cracking of the skin on the hands due to dryness.

By: Photographee.eu

Unlike most standard manicures, which focus on the fingernails, a paraffin manicure focuses on the entire hand.