What are Signs of Malnutrition?
When a person is malnourished, her body is not receiving the nutrients it needs, such as vitamins and minerals, to maintain its health. Being malnourished does not mean a person is missing all of her nutrients. It is possible to have a deficiency of only one or a few nutrients. In these cases, there may be specific signs of malnutrition to look for. Some general symptoms of malnutrition include fungus on the tongue, muscle wasting, and tooth decay.
In some cases, malnutrition does damage without warning signs. This means that if a person suspects that she is malnourished, she should not wait for the appearance of any of the signs. Suspicion of malnutrition should prompt a person to get medical attention.
There are some signs of malnutrition that may be easily overlooked. This is because they are such common ailments that they could be attributed to a number of problems. A good example is fatigue. People who lack proper nutrition commonly lack sufficient energy. This may cause them to be lethargic but they may not associate these symptoms with a problem in their diets.
Hair, skin, and nails are body parts that even healthy people struggle to find satisfaction with. Although these areas are commonly affected by malnutrition, many people fail to make this connection too. Hair loss, for example, is one of the symptoms of malnutrition. Dermatitis may also develop when a person is malnourished and he may have brittle nails.
Tongue fungus is commonly called oral thrush. This condition involves the growth of white patches on the tongue and sometimes on the gums. This growth is actually overgrowth because the bacteria that cause this problem are normally in the mouth. When the immune system is not functioning up to par, however, these bacteria can get out of control and constitute an infection.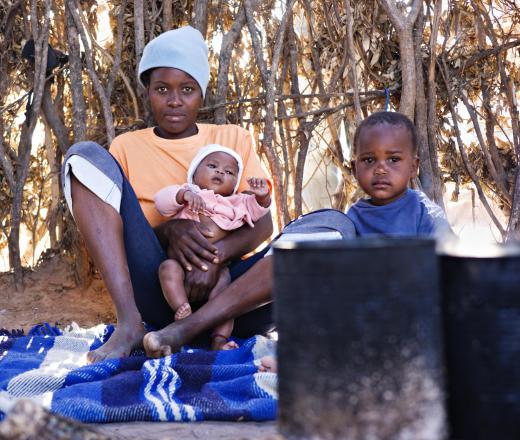 Wasting is one of the more serious signs of malnutrition. When the problem reaches this stage, the body is severely malnourished. Wasting refers to a process where the body begins to break down components such as muscle and fat to compensate for the lack of nutrition. Usually, the body wastes muscle first, and then, if the problem is not corrected, it begins to consume its fat. Indicators of this include sagging skin, skeletal appearance, and lack of normal body structure.
Tooth decay is another of the obvious signs of malnutrition. It is usually difficult for people not to notice that their teeth are rotting out. When a person is malnourished, his teeth may begin to look stained and then appear to be rotting. The teeth may become brittle or they may fall out. It is also likely that the gums may show a sign of infection, such as bleeding or releasing pus.
AS FEATURED ON:
AS FEATURED ON:

By: mario beauregard

Fatigue is a commonly overlooked sign of malnutrition.

By: Barabas Attila

Malnutrition can cause hair loss.

By: Sandor Kacso

One of the more obvious indicators of malnutrition is tooth decay.

By: poco_bw

Chronic malnutrition has many adverse effects on children, including lethargy and poor or stunted growth.

By: maya2008

Malnutrition is a common cause of chronic liver failure.