What are Some Healthy Dinner Ideas?
As more people begin to wake up to the fact that good health begins with a balanced diet, a number of healthy dinner recipes have begun to circulate around the world. Aimed at providing at least the minimum daily requirement of vitamins and minerals, these healthy dinner ideas are formulated to change eating habits and introduce a wider range of flavors and tastes into the daily diet. Here are some ideas on how to create healthy meals while still getting the nutrition you need.
One of the easiest ways to develop a healthier dinner is to look at some of your favorite foods and change the way you prepare them. For example, if you love chicken there is no reason you can't still enjoy poultry as part of the meal. Instead of battering and deep frying the chicken pieces, remove the skin and bake the chicken with a topping of various herbs and spices. You still get the nutrition of the meat without the added fats and carbohydrates that come from the breading and grease used to fry the chicken. At the same time, you have the chance to experiment with different spices and come up with topping combinations that satisfy your taste buds and provide inspiration for other healthy dinner ideas.
Increasing your intake of vegetables is also important to creating a healthy dinner. Many people assume that the meal must be built around some type of meat. Free yourself from that concept and focus instead on making sure you have protein in your meal. Creating healthy dinner ideas that make use of beans or other sources of vegetable protein will make a nice change while allowing you to cut back on the cholesterol that is often found in different types of meat. A simple meal of pinto beans accompanied by fresh coleslaw and slices of tomatoes will be tasty, colorful and nutritious.
Healthy dinners don't necessarily have to involve cooking at all. Tossed salads offer one of the best healthy meal options, since it is possible to add anything you like to the salad. Along with the traditional mix of lettuce, tomatoes, carrots and cucumbers, toss in some slices of apples, a handful of sunflower seeds and a few raisins or dried cranberries. Instead of using a salad dressing that is loaded with saturated fats, make your own olive oil and vinegar dressing, adding a few spices to achieve the effect you want. If you want a lighter salad dressing, pour a single packet of your favorite artificial sweetener over the salad and douse the vegetables and fruits with red wine vinegar. This simple dressing adds both tartness and a sense of the sweet to the salad.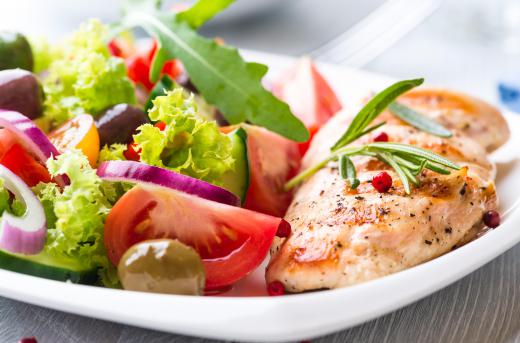 Stuffed bell peppers are among one of the easiest healthy dinner ideas to prepare. Simply split a large bell pepper into two sections, taking care to remove the seeds and the stem portion. Use baked turkey or chicken that has been shredded to mix in with wild rice and a few herbs and spices of your preference. Fill the cavities of the bell peppers with the combination and top with a small amount of low fat mozzarella cheese. Bake for ten to fifteen minutes and then serve. The bell peppers will be baked but still somewhat firm, while the melted cheese will add body to the meat and rice combination.
Coming up with healthy dinner ideas usually means making a few changes in the way you prepare food, as well as adding some variety to the foods you include in your diet. There are a number of cookbooks out today that are filled with recipes that are ideal for boosting general nutrition, as well as helping to minimize carbohydrates and cholesterol consumption.
AS FEATURED ON:
AS FEATURED ON:

By: Vivian Seefeld

Cookbooks can often offer many healthy dinner ideas.

By: Studio Gi

Mozzarella with tomatoes and basil leaves.

By: B. and E. Dudzinscy

Baked chicken and vegetables are some ideas for a healthy dinner.

By: dream79

Salads are one of the best healthy dinner ideas to prepare.

By: ilolab

Eggs cooked in light olive oil are a healthy and tasty option for an easy dinner.

By: Fanfo

Remove seeds before stuffing red bell peppers.

By: vvoe

A stew made with many vegetables can be a healthy dinner.

By: Andrey Starostin

A whole chicken roasted with herbs and potatoes makes for healthy comfort food.

By: marysckin

Soup makes for a healthy dinner.

By: Kondor83

Wild rice has fewer carbohydrates than white rice.

By: science photo

Having a glass of water with dinner is healthier than soda or alcohol.