What are the Benefits of Being Healthy?
While some may believe that being healthy just has to do with the physical state of the body, it actually has to do with the overall condition of the person both mentally and physically. Many people strive to live healthy lives and feel better for doing so. Others choose to make unwise choices that may put their mental and physical states in jeopardy.
One benefit of being healthy is the potential for increased happiness. Those who are healthy mentally and physically may be less inclined to unnecessarily stress or have reasons to stress, for example, by being in a horrible job or having a disease. An unhappy attitude may cause detriment to a person's state of mind as well as to his body.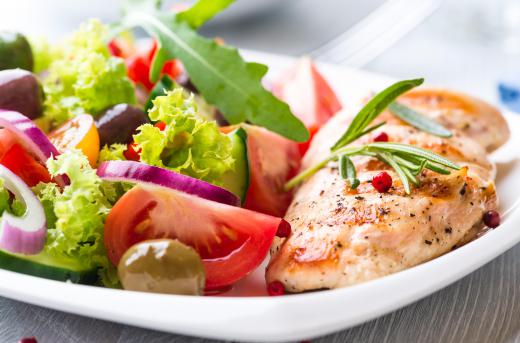 Those who are healthy could also help protect themselves from having various diseases or conditions in the future. Some are the result of years of unhealthy choices, so taking precautions may help someone avoid them. Being healthier could affect not only the immune system and physical condition in the short term but in the long term as well.
Weighing less can be another benefit of being healthy. It is not only beneficial for the body, but also for the self confidence. Some people who are overweight have body issues that could cause them to be unhappy with how they look. Being at a healthy weight can help prevent them from having different health problems as well.
Another benefit of being healthy is having more energy. After eating unhealthy foods, some people may feel sluggish and weighed down. Healthy food can sometimes make people feel energized and have the drive to do various tasks.
When someone feels unhealthy physically and mentally, it can take its toll on the relationships with those around them. The person may act differently or may feel so sick or rundown that being around others happens infrequently. The healthier someone feels, the better relationships with others may be.
To be healthier, it is important to have hobbies and good relationships with people. Eating well, keeping the mind sharp and exercising are also key components. If there seem to be any mental or physical problems, it is better to talk to a medical professional sooner than later.
Considering the number of problems that can stem from being unhealthy, it can be much better to make healthier life choices. Developing healthy habits tends to increase the chances of sticking to them, in whole or in part, in the future. Being healthy can mean a better overall quality of life.
AS FEATURED ON:
AS FEATURED ON:

By: B. and E. Dudzinscy

Eating a healthy diet is an important lifestyle commitment.

By: mitev

Fresh fruit and other healthy foods can help stave off future health problems.

By: Monkey Business

Making unwise health choices may put a person's mental and physical well-being in jeopardy.

By: Minerva Studio

Maintaining a healthy weight can help deter health problems, like heart failure.

By: WavebreakMediaMicro

Eating healthfully can help protect people from developing certain diseases and illnesses.