What Are the Best Tips for Syringe Sterilization?
In order to minimize the risk of transmitting diseases, a syringe should only be used once and then sterilized before it is used again so that microbes or diseases aren't passed between patients. A syringe should only be plunged into one vial of medication and then inserted into one person or animal before it is disassembled and sterilized. The best way to sterilize a syringe is through exposure to high heat, though there are a number of chemicals that can be used in syringe sterilization when access to the proper equipment is not possible.
The best way to perform syringe sterilization is to use machines known as autoclaves, which are often found in hospitals and laboratories, where they are used to sterilize many different types of equipment. Glass syringes, which are rarely used anymore, can be put in these machines and heated to a temperature of 248 degrees Fahrenheit (120 degrees Celsius) for 15 to 20 minutes. Plastic syringes may be damaged in this heat and are usually designed to be thrown away after one use. Needles used to give injections can be placed in these machines for sterilization and reused as well. Small doctor's offices or clinics that do not have their own autoclave will often send their contaminated syringes out for proper sterilization and disposal.
The temperature in an autoclave gets significantly higher than that of boiling water. Even so, boiling glass syringes is one way to perform syringe sterilization. This method is not as effective as the use of an autoclave and can spread disease because it does not necessarily kill off all spores. This method should only be used in an emergency. A small amount of phenol alcohol should be added to the water to improve sterilization. Once the water is boiling, a glass syringe should be left in for 15 to 20 minutes.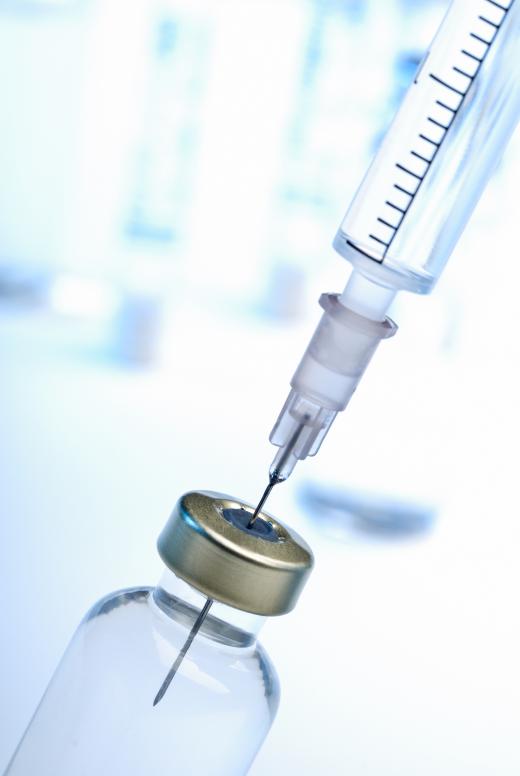 Plastic syringes are usually designed to be discarded after one use. Despite this, situations may arise in which a person needs to reuse a syringe. If this is the case, the best tips for syringe sterilization include flushing out the syringe with water and bleach.
In order to perform syringe sterilization with water and bleach, a syringe should be filled half way with the mixture and shaken vigorously before squirting out the liquid. This process should be repeated until no trace of blood or medicine can be found in the syringe, before it is flushed out a number of times with pure water. This will not eliminate all viruses, bacteria, or other contaminants and should only be performed in an emergency when a sterile syringe is unavailable.
AS FEATURED ON:
AS FEATURED ON:

By: Kinagra

A dental syringe.

By: Eisenhans

A closeup of the connection between a syringe barrel and needle.

By: design56

Bleach and water can be used as a sterilizing solution.

By: katrin_timoff

When available, an autoclave is the best possible way to sterilize a syringe.