What Are the Causes of Hallucinations in Children?
Childhood hallucinations can be normal; most often, however, they are a cause for concern and may be related to a larger problem. Some children are more prone to hallucinations than others and there is not always an obvious cause. The most common causes of hallucinations in children are related to medical conditions and mental disorders such as high fevers, head injuries, drug exposure, sensory deprivation, schizophrenia and other conditions. Hallucinations are usually auditory or visual, although children may also experience hallucinations through their sense of smell, taste or touch.
Medical conditions, especially high fevers and dehydration, commonly cause hallucinations in kids. Hallucinations may also be a sign of kidney or liver failure, epilepsy, brain cancer, tumors or severe head injuries. Childhood schizophrenia, psychotic depression and a predisposition to psychosis may cause children to hallucinate and are usually accompanied by severe mood swings. A child who is directly exposed to alcohol or drugs may experience hallucinations. This includes parental use of marijuana, heroin or amphetamines, as well as a child's use of inhalants, phencyclidine (PCP), lysergic acid diethylamide (LSD), cocaine and ketamine.
Some prescription medications typically given to children for attention deficit hyperactivity disorder (ADHD) and other childhood disorders may cause hallucinations when the child is given large doses. In some cases, even small amounts of these medications present a problem. According to the U.S. Food and Drug Administration (FDA), the most commonly prescribed medications that may cause hallucinations in children are Adderall®, Strattera®, Concerta®, Ritalin® and other amphetamine salts. Hallucinations related to these medications are usually related to the sense of touch, though they also can be visual.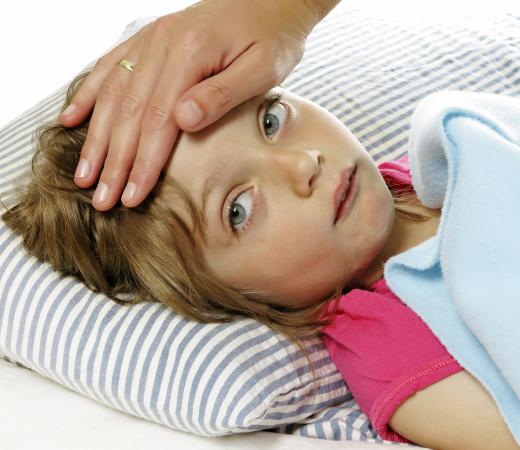 Hallucinations in children may also be caused by sleep disturbances such as sleep apnea and insomnia. Physical, emotional or sensory exhaustion also can cause hallucinations in kids, especially if the child experiences or is subjected to sensory deprivation. Long-term sensory deprivation caused by blindness, deafness or neglect is known to cause hallucinations. When a child is subjected to total sensory deprivation for as little as 15 minutes, hallucinations are common, even in children who are not prone to them.
Some hallucinations in children may be normal, such as when a child sees or hears a recently deceased family member or pet. This is often part of a normal grieving process. Imaginary playmates are also a common part of normal childhood development and are not the same as having actual hallucinations. Children who experience frequent hallucinations should be seen immediately by a qualified medical professional. Parents who are concerned that their child is having a hallucination should seek immediate medical care for the child.
AS FEATURED ON:
AS FEATURED ON:

By: Richard Villalon

Parental use of heroin can cause hallucinations in children.

By: Vera Kuttelvaserova

A high fever may cause a child to hallucinate.

By: Vojtech Vlk

Sleep disturbances like apnea adn insomnia can contribute to hallucinations in children.

By: Frantab

Hallucinations in children may be a sign of cancer.

By: Ermolaev Alexandr

Some prescription medications can cause hallucinations in children.

By: Stuart Monk

Dehydration may cause hallucinations in children.