What are the Causes of Stomach Ache and Fever?
There are many things that may cause stomach ache and fever, but among the most common are food poisoning and the stomach flu. A person may also deal with these symptoms when he has a more serious condition, such as appendicitis or pancreatitis. These conditions cause abdominal pain, but patients often refer to it as stomach pain. Some people may even develop pain and fever when they have pneumonia or influenza.
When a person has a stomach ache and fever, one of the most likely causes of his symptoms is a stomach flu. Despite the misleading name, this condition is not related to influenza, but is caused by a virus that leads to such symptoms as pain, fever, diarrhea, nausea, and vomiting. Fortunately, a person with this condition typically recovers after a short period of time, but complications such as dehydration may occur. It is important to note, however, that some cases of stomach flu are not accompanied by fever.
Sometimes, the cause of stomach pain and fever is food poisoning. This occurs when a person consumes food or drink contaminated with something harmful. For example, a person may develop problems after consuming food that has been contaminated by bacteria or drinking water that contains parasites. An individual may also be sickened by food contaminated with viruses or toxic agents, such as wild mushrooms. Whether or not food poisoning causes a fever usually depends on its causes.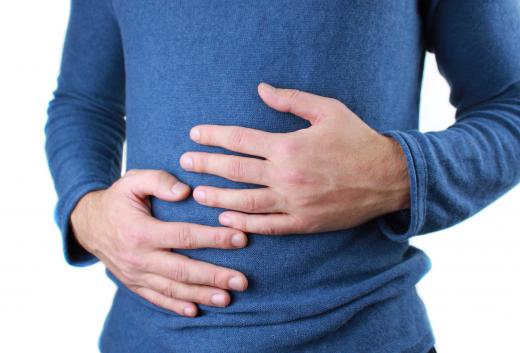 In some cases, conditions that cause these symptoms indicate that a person needs immediate medical attention. For example, someone may develop these symptoms when he has appendicitis, which is inflammation of the appendix. Pancreatitis, which occurs when a person's pancreas is inflamed or infected, can also be the cause. Both of these conditions cause abdominal pain that patients sometimes refer to as stomach pain and can develop with or without fever. A patient will typically need emergency medical attention for either condition.
Interestingly, there are also some upper-respiratory conditions that cause a fever and stomach ache. A person may have these symptoms when he or she has influenza or even pneumonia.
For symptoms that last a short time or are accompanied by vomiting or diarrhea, a person can usually stay at home and treat them by resting, drinking plenty of water, and possibly taking a fever reducer. If the pain becomes progressively worse, is to one side of the abdomen, is accompanied by bloody vomiting or diarrhea, or lasts for an extended period of time, individuals should seek medical attention. Those who have a very high fever or one that does not respond to over-the-counter fever medicine should also see a healthcare professional.
AS FEATURED ON:
AS FEATURED ON:

By: Igor Mojzes

Food poisoning can cause a stomach ache and fever.

By: PictureP.

A stomach flu is the most common reason for stomach ache and fever.

By: Balint Radu

A diagram of the stomach and duodenum.

By: goodluz

Drinking water that contains parasites can cause stomach ache and fever.

By: Jag_cz

Eating mushrooms that contain toxins can cause stomach ache and fever.

By: Ocskay Bence

Fever and stomach pain may be indicative of an upper respiratory illness.

By: emde71

Influenza vaccines are ineffective when it comes to preventing a stomach flu.

By: joshya

A person with appendicitis will often suffer from a stomach ache and fever.

By: michaeljung

Influenza may cause a fever and stomach ache.