What are the Common Causes of Lower Leg Swelling?
Lower leg swelling is often a symptom of an underlying condition, though the cause may also be generally harmless. For example, standing or sitting for too long in one spot, pregnancy, menstruation, and excessive body weight can all cause swelling, especially in the lower legs. On the other hand, it might be a sign of a serious issue, such as preeclampsia during pregnancy, blood clots, or organ failure. Less serious medical problems may also result in lower leg swelling, such as sunburns, insect bites, injuries, or certain medications.
Many people experience lower leg swelling when they are on long car trips or while traveling by airplane, as they are forced to stay in the same position for a long time, causing fluids to accumulate in the area. Pregnancy is well-known for causing swelling throughout the body, as is menstruation, often ranging from bloating in the abdomen to swelling in the legs. Those who are overweight also often suffer from swelling in the ankles, feet, and lower legs.
Of course, sometimes the swelling should not be ignored or considered normal. For example, some swelling during pregnancy is normal, but if it gets worse overnight, or seems extreme, it could be a sign of preeclampsia. This condition usually also occurs with high blood pressure, and is dangerous for both the mother and unborn baby. Organ failure can also be accompanied by lower leg swelling, as kidney, liver, and heart issues may all cause excess fluid in the body. A blood clot may also be the cause of swelling, especially if it seems sudden and causes the leg to ache and feel cold.
Other conditions may also lead to lower leg swelling, but in such cases, the swelling is an unfortunate side effect that should go away once the underlying issue is addressed. One example is a sunburn, which often causes the lower legs to feel heavy, though a regular burn usually has the same effect. Insect stings and bites may lead to swelling in the affected area, as can a sprained or strained ankle, though these injuries are usually accompanied by pain and bruising.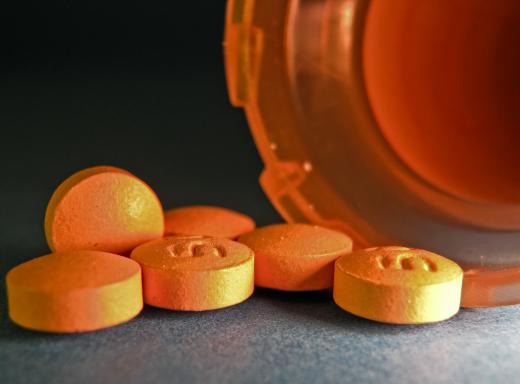 Finally, some medications may cause swelling in the lower legs as a side effect, especially those that include hormones like testosterone or estrogen. Steroids, antidepressants, and some drugs meant to lower blood pressure may affect the body the same way, as well, though the swelling often goes away when these medications are discontinued.
AS FEATURED ON:
AS FEATURED ON:

By: Ocskay Bence

Excessive body weight can cause lower leg swelling.

By: Luis Santos

A sprained ankle will usually cause pain and bruising.

By: Wynter

Swelling in the calf and lower leg may be a side effect of some antidepressants and drugs used to reduce high blood pressure.

By: michelaubryphoto

Ice packs can help reduce swelling.

By: Pavel Losevsky

Those traveling by aircraft for extensive amounts of time may experience lower leg swelling.