What Are the Common Causes of Swelling with Pus?
Pus is a buildup of fluids containing cells, tissue, and bacteria and is usually an indicator of an infection, marked by swelling or redness. Swelling with pus can be caused by any number of conditions, and is often referred to as an abscess. An abscess is a collection of pus with swelling or inflammation around it. In cases where swelling is visible, it is easier to identify and treat. In rarer cases, internal abscesses can occur that are harder to diagnose.
Some common causes of swelling with pus include an abscessed tooth, severe acne or rosacea, third-degree burns, and nail infections. Abscesses can occur most anywhere in the body, but they are often on or under the skin and in the mouth or throat. They are often painful, but may be only moderately irritating. Treatment most always includes antibiotic medication, but may require surgical intervention depending on the cause.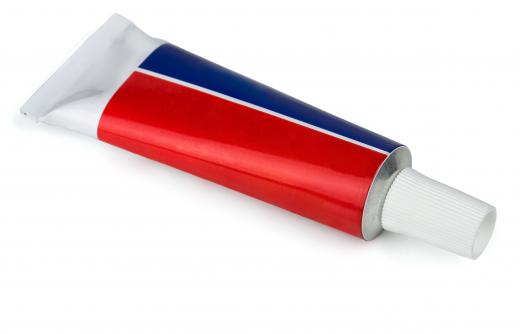 An external abscess marked by swelling with pus can typically be easily treated by a physician or dermatologist. Some conditions, such as severe rosacea or acne, may require ongoing treatment by a dermatologist. Other conditions that cause swelling and pus are considered acute and may be treated as a single incident. Swelling with pus is often a secondary sign of an injury to the skin, such as a wound or burn. Proper hygiene and cleansing of wounds or burns can prevent help prevent infection, but in some cases medical attention is warranted.
Some people may notice rectal inflammation and swelling with pus, mucus or blood in the stool. This can be a sign of Crohn's disease or another colorectal disease and should receive swift medical attention. Inflammation and swelling with pus in the genital regions may indicate an infection or disease that also requires swift medical intervention. People exhibiting these symptoms should refrain from sexual intercourse and see a doctor immediately.
Unlike internal causes of swelling and pus, skin infections marked by the same symptoms may be treated with a topical antibiotic rather than an oral antibiotic. Following a doctor's advice and taking medications exactly as prescribed is the quickest way to safely and effectively eliminate infection. Open wounds should be kept clean and covered to avoid further complications. Caregivers should be cautious of infection and wash hands before and after dressing wounds or burns. During treatment, if fever, increased redness or red streaks, or other symptoms develop, seek professional medical help immediately.
AS FEATURED ON:
AS FEATURED ON:

By: Coprid

Skin infections are typically treated with a topical antibiotic.

By: michaeljung

Sites of pus and swelling may require examination by a dermatologist.

By: thegarden

Pus often results from an infection.

By: Ocskay Bence

Severe acne may cause swelling with pus.

By: Ocskay Bence

Covering a wound is an important step in preventing infection.

By: George Dolgikh

Taking a hot bath may help fight a skin abscess, a potential cause of swelling with pus.

By: Sherry Yates

Swelling and pus may be signs of an infection in a recent surgical incision.

By: stokkete

Swelling with pus may be caused by an abscess, which often present in the throat.