What Are the Common Causes of Toenail Pus?
Toenail pus is caused by a bacterial infection. Symptoms of an infection that causes pus around the toenails include redness, pain and inflammation around the toenail, and pus formation. The color of pus may be white, yellow, green, or brown. Sometimes, the pus is light pink or red when it is tinged with blood. An infected toenail can cause tissue irritation and subsequent mild bleeding.
The color of toenail pus does not indicate the severity of the infection nor does the consistency of toenail pus. Though the consistency of pus can be thin, it can also be very thick and sticky. This consistency is often referred to as being viscous. When pus formation is noticed around the toenail, the health care provider should be notified quickly. Failure to treat a toenail infection with pus can result in the spread of infection. Symptoms of a toenail infection that has spread include joint pain, fever, chills, and feeling ill.
Treatment for toenail pus includes soaking the affected area in warm water throughout the day. The warm water will soothe the pain and decrease redness and inflammation. Furthermore, the foot soak will help draw toenail pus out of the tissue and rinse away bacteria. An over-the-counter antibacterial ointment may also be recommended for the infection as might an oral antibiotic.
Rarely, toenail pus needs to be drained by a health care provider, who will perform the procedure under sterile conditions. This procedure should never be attempted at home because it can worsen the infection and contribute to complications. Occasionally, the health care provider may also need to perform a minor surgical procedure to remove a portion of the toenail that has embedded itself into the tissue. The procedure is generally done with a local anesthetic and then area is then covered with an antibiotic ointment and sterile dressing.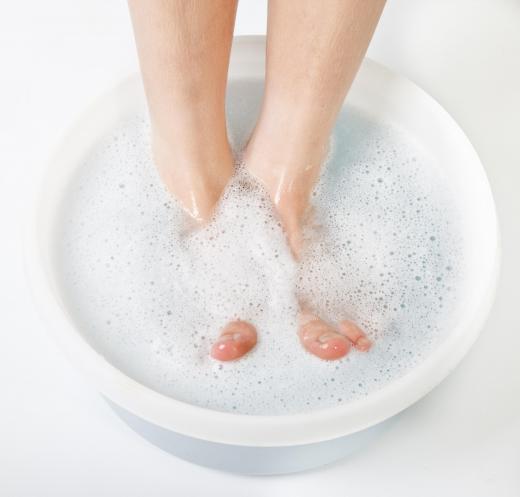 Wearing ill-fitting shoes or injuring the toe can also contribute to a toenail infection with pus. Diabetics and people who have circulation problems are especially at risk for infection. These people should have their toenails cut by a podiatrist, who is a licensed health care professional specializing in conditions and treatment of the foot. Though toenail infections with pus rarely cause complications, they can occur and may include abscesses, loss of the toenail, tissue damage and permanent changes in the color, shape, and sensitivity of the affected toe.
AS FEATURED ON:
AS FEATURED ON:

By: adam88xx

A bacterial infection causes toenail pus.

By: Petro Feketa

Ill-fitting shoes may contribute to a toenail infection with pus.

By: Jan Andersen

Soaking the feet can help with pain from a toe infection.

By: Mercedes Fittipaldi

Individuals with diabetes may experience poor circulation in the feet, which may cause them to be more susceptible to foot infections.

By: Jürgen Fälchle

Walking barefoot in public places may cause toenail fungus and pus.

By: Andrea Arnold

Toenail injuries that limit mobility may warrant a visit to the podiatrist.