What are the Common Side Effects of Lidocaine?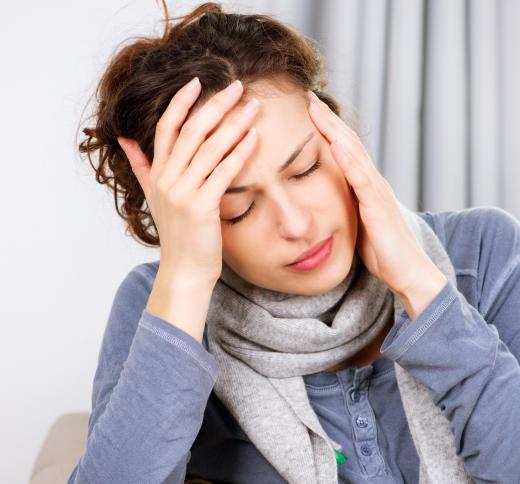 Lidocaine is a local anesthetic that most often comes in the form of a topical spray or cream, an injectable solution, or a transdermal patch, a band-aid like sticker attached to the skin at the site of pain through which the pain killer is release. Side effects of lidocaine topical spray or gel are rare, but can include a mild biting or burning sensation at the site of application. The most common side effects of injectable lidocaine are tremors, lightheadedness, difficulty sleeping, and abrupt personality changes. Common side effects of lidocaine in the patch form are skin problems at the site of the patch such as a burning sensation, rash, or blisters, but other side effects do include headaches and an upset stomach with nausea.
Sprays or creams containing lidocaine can be used as a topical pain reliever for minor procedures such as needle injections or laser surgery. This form of lidocaine can also be combined with other medications, such as hydrocortisone or aloe, to provide pain relief for reactions to poisonous plants, insect bites, or sunburn. Since the dose of these over-the-counter forms of lidocaine are small and directions for their use are clear, it is often rare to see any side effects of lidocaine in this form unless the medication is misused. Rare side effects to watch for are a burning or biting sensation which does not subside. If this side effect occurs, consult with a pharmacist or doctor.
Injectable lidocaine is used most often to treat localized pain associated with arthritis, to treat irregular heartbeats and seizures which are unresponsive to other treatments, and as a local anesthetic during minor surgery. Side effects for injectable lidocaine are tremors, lightheadedness, difficulty sleeping, and sudden changes in the patient's personality. Often these side effects are dose-dependent, and by adjusting the dose of the lidocaine the side effects can be eliminated or controlled.
The lidocaine transdermal patch is typically prescribed to treat discomfort associated with shingles. The most common side effects of lidocaine in this form are skin problems localized to the site where the patch is applied, and typically include an unpleasant burning sensation, rash, or blisters. These adverse reactions usually develop within a few hours, and if use of the patch is discontinued the skin clears up fairly quickly. The patch should never be applied to skin that is already damaged, cut, or sore, since the patch may aggravate these conditions.


By: Subbotina Anna

Some people who use lidocaine may get headaches.

By: Julija Sapic

An upset stomach and nausea can be caused by lidocaine.

By: carroteater

Lidocaine cream often contains hydrocortisone as well.