What Are the Differences between a Bandage and Dressing?
The words bandage and dressing are very similar and loosely defined, making it sometimes difficult to understand the difference between the two. There is no textbook answer to this question; however, generally speaking, a bandage is more of a supportive device used to hold a dressing in place. A dressing is usually in direct contact with the wound or injury and differs from a bandage in that it aims to heal, whereas a bandage simply supports healing.
There are a plethora of dressings and bandages in existence. This makes sense with all of the possible conditions that a person can experience. A burn, abrasion, cut, or other injury may require a particular type of dressing. Each dressing, depending on size, location, and other factors, needs to be held in place in a particular fashion in order to be effective. This is how the bandage and dressing are so closely related.
A bandage and dressing can act to stop a cut from bleeding or heal a chronic wound — this medical marriage should not be underestimated in importance. The dressing tends to be more expensive than its counterpart due to the possibility for specialization. Dressings sometimes contain antibacterial agents, such as silver, or are made of expensive materials like skin grafts or silicon. Factors like these can make the application of a bandage and dressing quite expensive.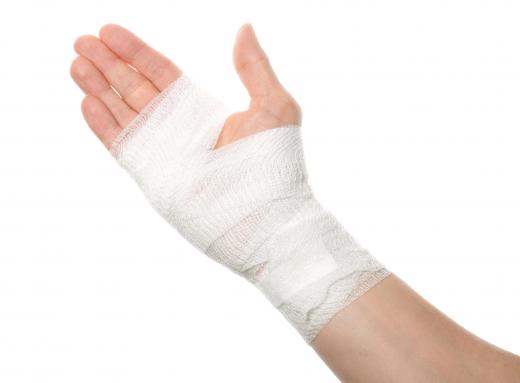 The most common type of bandage is gauze. This is a rolled form of gauze that most people are familiar with as a household item. Sometimes, this is referred to clinically as kling or conform. Although there are different names, most variations refer to the same woven, rolled fabric designed to hold dressings in place, provide cushioning, and absorb drainage possibly associated with the injury at hand.
Gauze is very useful for a variety of reasons. One is the ease at which it can be applied. Sometimes, wounds or other health conditions present themselves in unique areas of the body. Only products similar to gauze are able to weave into the body's nooks and crannies to hold virtually any dressing in every conceivable location.
A medical professional should always be present or consulted before the application of a bandage and dressing. This will help ensure the procedure is done accurately and effectively. It will also maximize the potential for a full patient recovery.
What are Other Types of Dressings?
When choosing a dressing for your wound, you might feel overwhelmed with the choices available. A few of the most common types, besides gauze, are transparent films, foam, and gel.
Transparent Films
Transparent films are ideal for wounds that benefit most from airflow. They allow oxygen to reach the wound while letting moisture evaporate out. They're usually made of polyurethane and work best for injuries that aren't draining, such as burns. Transparent film dressings reduce the chance of infection at surgical sites significantly. 
Foam
Similar to transparent films, foam dressings consist of a polyurethane material coated in foam. They're absorbent, making them ideal for wounds that are draining. In addition, foam dressings provide a strong barrier between the skin and outside contaminants.
Gel
Hydrogel dressings are a common choice for dry wounds, such as burns. They have a high water content, which helps shorten healing time. Gel dressings help treat other surface wounds, such as sunburns.
What are Other Types of Bandages?
Once again, gauze is possibly the most common type of bandage, but three other significant types can stabilize dressings, wounds, and other injuries. 
Triangular Bandages 
Triangular bandages typically make slings or tourniquets. They relieve tension and provide support to arm or shoulder injuries. Due to their shape, triangular bandages are not very versatile, but they are specialized for upper limb injuries. 
Compression Bandages
A compression bandage is a long strip of cloth that you can wrap around a sprain or a strain. They are also known as elastic bandages or Tensor bandages. A compression bandage applies gentle pressure to the injured area, which decreases swelling and pain. 
Tube Bandages
Tubular bandages are pre-formed, circular bandages used to support injured joints or ligaments, such as fingers, toes, knees, and elbows. These bandages are mainly for holding things in place and do not apply much pressure, so they aren't ideal for stopping bleeding. 
How Do You Properly Apply a Dressing or Bandage?
Some rules hold fast in all scenarios when it comes to wound management. There are specific steps to follow when tending a wound. Applying a bandage or dressing incorrectly could lead to added pain or infection. 
1. Stop the Bleeding
The most vital step in treating a wound is to stop the bleeding. In many cases, the bleeding will stop on its own. However, you can stop it yourself by elevating and applying pressure to the area with a gauze dressing. If the injury is somewhat severe, you'll want additional dressing on hand for bandaging to keep the dressing and pressure in place.
2. Clean the Wound
To prevent infection or further injury, your next step should be to clean the wound. Proper wound cleaning involves:
Disinfecting the area
Removing debris
Debriding dead tissue
Irrigating the wound with saline
Applying antibiotic ointment
The final step is to cover the area with a bandage or dressing. A severe wound will require a dressing, while more minor injuries, such as scrapes and cuts, might only need a bandage. If you're unsure which will work best for your injury, you may want to contact a doctor, emergency services, or another medical professional.
3. Numb the Area
If the wound is severe and needs sutures, numb the area. Medical workers can do this with local anesthetics, which is typical when applying sutures. When dressing a wound at home, you can use a topical anesthetic such as lidocaine to minimize discomfort. Add more ointment before putting your dressing or bandage on to ensure it stays in place.
4. Close the Wound
Once the wound is clean, you want to close it to the best of your ability. A doctor might use sutures, staples, or adhesives if the wound is large. At home, you can use thin Steri-Strip bandages for non-serious wounds. Steri-Strips work perfectly as a bandage on their own or as a first layer under a larger dressing.
5. Dress the Wound
To avoid infection or further injury, use a dressing or bandage that doesn't adhere to the wound. Gauze pads or dressings specifically designed to go on wounds are your best option. Ensure there's an absorbent layer if the injury is weeping. Finish by bandaging the wound to keep everything in place.
Why Should You Dress and Bandage a Wound? 
In its early stages, a wound needs moisture to promote healing, and other injuries, such as sprains, need support. By keeping a wound clean and dressed, and supporting it with a bandage, recovery will be quick and simple.
AS FEATURED ON:
AS FEATURED ON:

By: Gennadiy Poznyakov

A medical professional wrapping a person's knee with an elastic bandage.

By: Vivian Seefeld

Gauze bandages are easy to weave around otherwise difficult areas of the body to provide protection from infection.

By: PinkShot

Minor wounds may be dressed with an adhesive bandage.

By: vladans

Gauze pads may be used to prevent infection in burn victims.