What Are the Different Intravenous Injection Sites?
Intravenous injections are those administered directly into a peripheral or central vein of the circulatory system. Potential adult intravenous (IV) injection sites include those areas where veins lie close to the skin and are large enough to withstand the pressure and volume infusion of an intravenous injection. Usually visible and even palpable to a trained healthcare worker, these peripheral intravenous injection sites are primarily located in the upper extremities or arms. IV sites can be located in the legs, but IV injection sites in the lower extremities are difficult to reach and more painful to use. Central intravenous injection sites are often difficult to reach with a standard IV cannula or a hypodermic needle and usually require placement of an indwelling central catheter — such as a PICC line or subclavian line — before an IV medication can be administered.
As noted above, the most common intravenous injection sites are in the upper extremities and involve those of the back of the hands, the front and back of the lower arm and the antecubital fossa, or elbow. Veins in the legs are difficult to locate given the musculature of the lower extremities. Further, complications to IV administrations in the legs can result in more serious side effects, such as blood clots and venous insufficiency secondary to valve damage. Femoral veins are not recommended as a standard intravenous injection site due to the blood vessel's deep location and proximity to the femoral artery and femoral nerve. Veins in the feet are usually small and painful to utilize for IV injection sites.
The administration of an intravenous injection is an entirely different procedure than the administration of an intramuscular (IM) injection. These injections are administered deep into the body of a muscle, such as the deltoid or the gluteus. After the syringe is inserted, the plunger is pulled back to determine if a vein has been punctured before the medication is injected to ensure that the medication is administered intramuscularly and not intravenously. Intravenous administration causes a much faster drug action time than does intramuscular administration. While some medications can be administered both IV or IM, some are restricted to one route or dangerous side effects can occur.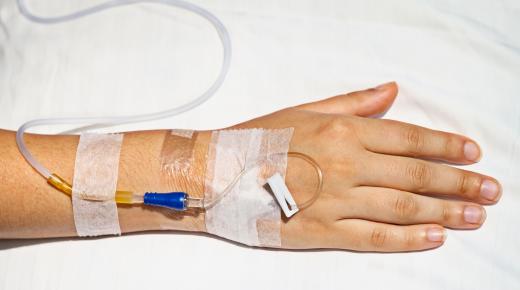 Finally, potential intravenous injection sites depend upon whether the purpose of the injection is for a medicinal purpose or is related to recreational drug use or addiction. Individuals seeking intravenous injection sites for recreational drug use often use sites that would never be considered in a medical situation. Areas more often used for recreational IV injections might include the upper arm and the legs, for example.
AS FEATURED ON:
AS FEATURED ON:

By: Judex

An intravenous drip.

By: pzAxe

A person with an intravenous line in her hand.

By: Aleksandrs Jermakovi

An IV cannula for use with a peripheral IV line.

By: SENTELLO

Intravenous injection sites may include the antecubital fossa, or elbow.

By: skampixelle

The upper arms are common for injections, both medical and recreational.