What Are the Different Syringe Parts?
A syringe is a medical device used to either inject or remove fluids, such as medication or blood, from a body. The plunger is one of the main syringe parts. It is responsible for pushing or pulling the liquid in or out of the barrel, another syringe part. A needle is often attached to the bottom of the syringe barrel, and it is usually covered by a protective cap.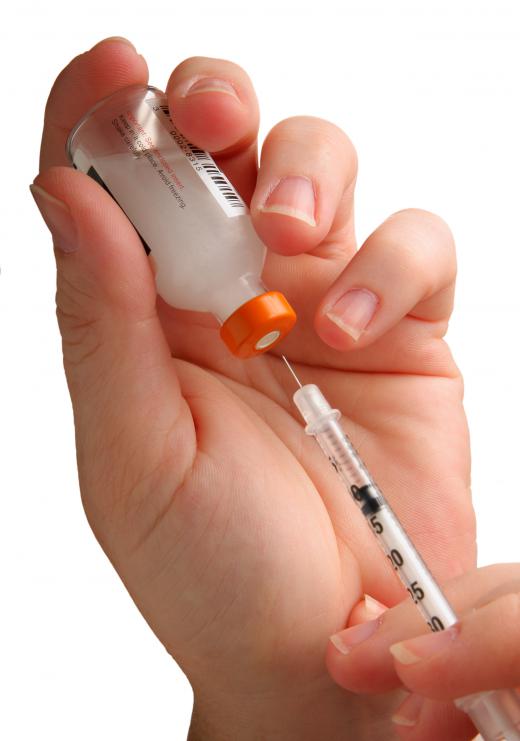 Syringes are also sometimes referred to as hypodermic needles or hypodermic syringes, and they are common medical instruments. These devices can be used to push liquid into the body through the skin, or they can be used to remove fluids. A typical syringe is a very simply constructed instrument, and it is generally made up of just a few syringe parts.
The plunger is one of the main syringe parts, and it is located at the top of this instrument. It is usually a straight rod made of plastic. The top of a syringe plunger can either be flat or circular, depending on what it will be used for. Flat plungers make it easier to depress the plunger with the thumb, while circular plungers make it easier to pull the plungers back with the thumb.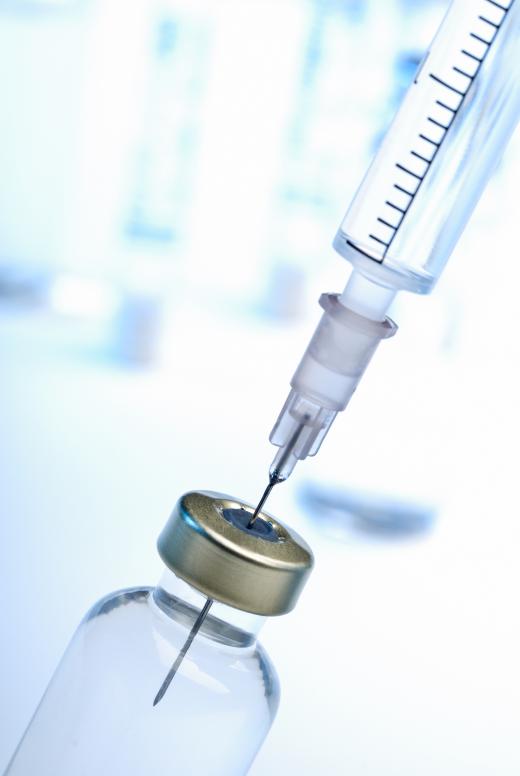 The other end of a syringe plunger has a rubber foot on it. This plunger tip fits tightly into another one of the main syringe parts, the barrel. This is the hollow part of the syringe that holds fluids. When the rubber end of the plunger is inserted into the barrel, it creates a seal. Pushing the plunger into the barrel forces fluid out of the syringe, while pulling it out of the barrel draws fluid into the barrel.
Two tabs are also usually located on either side of the top of the barrel. The index finger is placed under one of the tabs, and the middle finger is placed on the tab on the other side. This makes it easier to depress the plunger with the thumb. Some syringes have circular rings instead of tabs, which can make it easier to pull the plunger back.
Needles are also considered important syringe parts that are connected to the bottoms of the barrels. The centers of these needles are hollow, which allows fluid to pass through them. Syringe needle tips are also very sharp, so they can easily penetrate the skin. Rigid plastic caps, or needle covers, are usually placed over syringe needles. A needle cover helps keep a needles sterile, and it also prevents the needle from accidentally poking someone.


By: RTimages

A syringe.

By: Scott Van Blarcom

A person filling a syringe.

By: Kinagra

A dental syringe.

By: Eisenhans

A closeup of the connection between a syringe barrel and needle.