What are the Different Types of Exercise Equipment?
Exercise equipment falls into two categories based on the type of exercise provided: cardio or strength training. Both types of exercise, along with stretching, are essential to a balanced and effective fitness regimen.
Cardiovascular, or cardio, exercise helps to increase heart health and burn fat by raising the heart rate. Cardio exercise equipment includes stationary bikes, treadmills, elliptical trainers, and stair climbers. Most cardio equipment of this type at a typical gym includes a display screen which tracks your heart rate and provides options for customizing your workout. Other information about your workout, such as the amount of miles (or kilometers) you have traveled and your total calories burned, may also be displayed. Regularly varying the type of cardio machine you use will help you to exercise more effectively.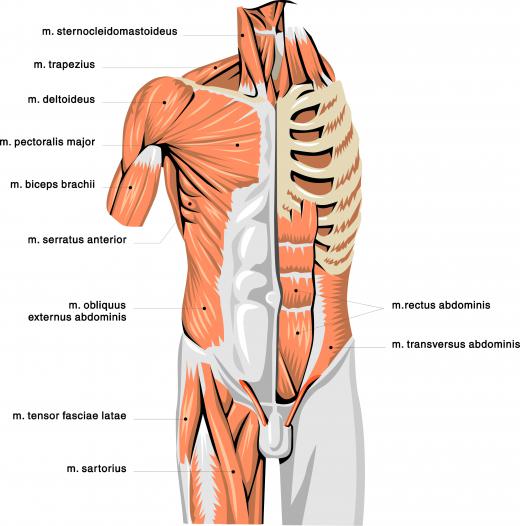 Exercise equipment for strength training is more varied. Free weights, weight machines, and balancing or resistance equipment can all be used for strength training. Weight training helps to build muscular strength and helps to maintain the results of cardio exercise.
Free weights come in many different shapes, sizes, and weights. Round weights may be used on their own or placed on the end of barbells. Small handheld barbells and medicine balls are other options. Many people prefer free weights to weight machines because you must use muscles throughout your entire body to maintain balance as you lift them. However, weight machines are safer and easier to use than free weights and may allow you to lift greater amounts.
Weight machines have a stack of incremental weights attached to a pulley which you can lift by pulling or pushing other parts of the machine. This type of equipment is more user-friendly than free weights, as there is often a clear illustration of correct use posted on each machine. You can use a pin to select the amount of weight you want to lift and adjust the machine to accommodate your body type.
Some strength training exercise equipment does not include weights, but allows you to use your body weight for resistance. Chin up bars, which work the biceps and triceps, and crunch machines, which work the abdominals, are examples of this type of exercise equipment.
Resistance and balance exercise equipment can also be effective for strength training. This type of exercise equipment can be used on its own or in combination with free weights. Doing crunches on an inflatable exercise ball or lunges on an inflatable pad work muscles all over your body by forcing you to keep your balance as you complete strength building exercises. Resistance equipment such as elastic bands can build muscular strength without the use of weights.
AS FEATURED ON:
AS FEATURED ON:

By: mikiradic

An anatomical illustration showing many muscles in the upper body.

By: Rido

Some people use free weights.

By: mellsva

An exercise ball is a popular form of exercise equipment.

By: dacasdo

Advanced weight-lifters often use heavy duty barbell equipment.

By: Igor Mojzes

Using a variety of cardio machines at the gym can help you exercise effectively.

By: Ljupco Smokovski

Barbells are not considered as safe as weight machines.

By: tankist276

Free weights, including dumbbells, can be used to build strength and muscle mass.

By: Rido

A spin bike is often designed to provide an experience akin to road biking.

By: Photographee.eu

Exercise bands stretch -- like giant rubber bands -- to provide resistance when used for working out.