What Are the Different Types of Pharmaceutical Packaging?
Medications and prescription drugs come in several different types of packaging designed to keep the medications safe and to be useful to the patient or to the healthcare practitioner who administers the medication. Pharmaceutical packaging types include bottles designed for different types of medications, blister packages and tracking systems for healthcare facilities that administer pharmaceuticals to many patients. The pharmaceutical packaging that is used can have a significant effect on how well the patient adheres to his or her medication schedule and can be extremely helpful in helping healthcare workers keep track of patients' medications and how they are administered.
The most common type of pharmaceutical packaging for home use is bottles. Glass bottles were often used for drugs in the past, but plastic bottles are more widely used now. Most bottles for pills and liquids are darkly colored, though slightly transparent to allow the patient to see faintly inside but still protect the medication from overexposure to light and heat. Medication bottles often use child-resistant caps that require the patient to press down on or squeeze the cap while twisting it off. These types of caps can be difficult for elderly patients and those with arthritis to remove, however, so easy twist-off caps are often substituted for these patients.
Most medications distributed for patients to take at home include a label that tells the patient what the medication is, how many pills or how much liquid was included in the prescription, when and how often to take the medication and how many refills remain. Warnings and other important information are also often found on the outside of the pharmaceutical packaging, usually with brightly colored labels that include icons or pictures to draw the patient's attention. Examples of these warnings include medications that should be taken with food or ones that can cause drowsiness and should not be taken before driving or performing other dangerous tasks.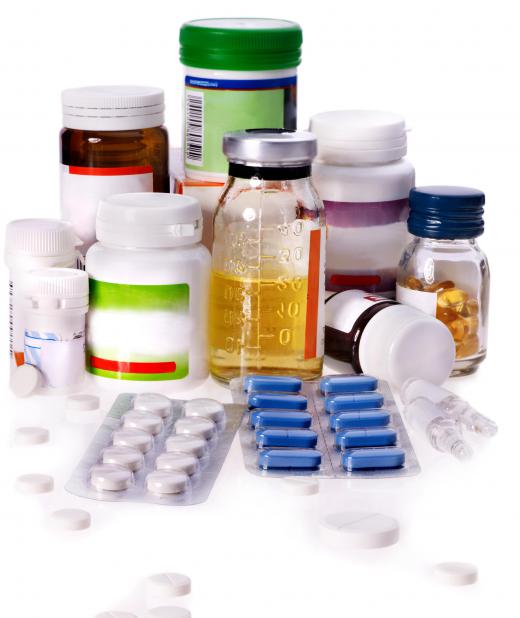 Blister packages, sometimes called bubble packs, are made of a cardboard or thick paper backing with individual pills or groups of pills inserted into a small plastic pouch that is covered by foil on the back side. This type of pharmaceutical packaging is often referred to as unit-dose packaging, because one blister equals one dose. Unit-dose packaging is often used by nursing homes and long-term care facilities because it is easier for staff members to count the remaining medication and to distribute it properly to patients. Easy-to-open blister packs are also helpful for patients who struggle with bottles or vials for medications they take at home.
Many hospitals and other medical care facilities use a tracking system on the pharmaceutical packaging attached to the drugs they administer. Some facilities use a bar code system that can be easily scanned to attach the medication information to a particular patient. These systems are common in facilities that use an electronic records system. Other facilities might use a numbering system or other coded system to keep track of patients' medications.
AS FEATURED ON:
AS FEATURED ON:

By: Nikolai Sorokin

Pills in blister packaging.

By: Gennadiy Poznyakov

Pharmaceuticals can come in a variety of packages.

By: krutoeva

People who suffer from arthritis may have difficulty opening the child-resistant caps on medication bottles.

By: maron

Many prescription medications come in a bottle with a screw top lid.

By: Rachakrit

An oral syringe is recommended for giving exact dosages of liquid medications to young children and babies.