What are the Different Types of Skin Cancer?
Some skin cancers are more common than others, but three of the most commonly diagnosed types are basal cell carcinoma, squamous cell carcinoma, and malignant melanoma. Kaposi's sarcoma is a rarely-seen type of skin cancer. There are other rare types of skin cancer, some of which include cutaneous T-cell lymphoma and merkel cell carcinoma (MCC).
Melanoma is a very serious form of skin cancer that typically manifests in the form of a raised mole that resembles a birthmark. Quite often, the mole will have raised edges and more than one color. Basal cell carcinoma and squamous cell carcinoma, on the other hand, are not as aggressive as melanoma and can be treated effectively if caught in their early stages. Some of the lesions associated with these types of skin cancer may be scaly and itchy.
MCC is one of the rarest types of skin cancer. The disease afflicts both men and women, and most patients are in their late 50s and early 60s when first diagnosed. A most destructive form of skin cancer, MCC produces lumps on the skin that vary in color. In most cases, the bumps or lesions on the skin produce minor pain.
White blood cells known as T-cell lymphocytes can sometimes turn into cancer. This form of skin cancer is known as cutaneous T-cell lymphoma (CTCL). Most individuals who are afflicted by this type of skin cancer are elderly. Similar to other types of skin cancer, CTCL often appears as red patches that easily flake and peel or cause pain and irritation. Many patients who are diagnosed with this form of skin cancer are treated with chemotherapy drugs.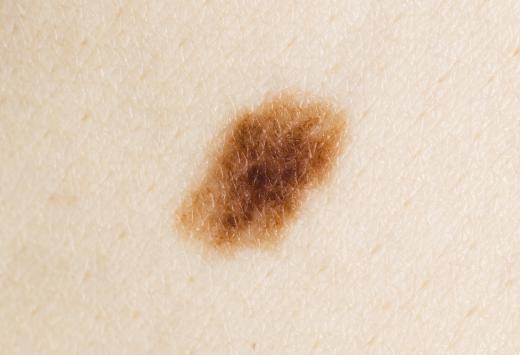 Another uncommon type of skin cancer is called sebaceous gland carcinoma (SGC). This skin cancer typically produces lesions around the eyelid that may bleed. Elderly women develop this skin cancer more often than men. Radiation is the most common treatment for this type of skin cancer. In more aggressive cases, surgery followed by radiation is recommended.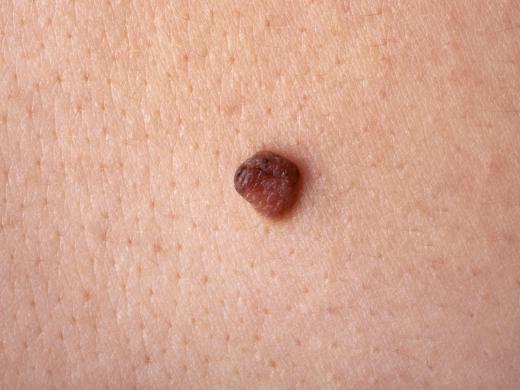 Many types of skin cancer develop on the face and nose more than other body parts. Individuals who do not use a protective sunscreen during long periods of sun exposure may risk developing nose cancer. This type of skin cancer commonly causes blisters and scabs that often bleed or can become infected. Those who notice any unusual contusions or bumps on the nose should consult with a physician.
AS FEATURED ON:
AS FEATURED ON:

A skin mole.

Flat skin mole.

By: paulandlara

A raised mole.

By: Laiotz

Elderly women develop a type of skin cancer called SGC more than men.

By: Netwalker

Non-melanoma skin cancers are typically classified under two main categories.