What are the Different Types of Waterproof Bandages?
There are a number of kinds of waterproof bandages that are used by people who need to keep their wounds dry in wet or damp conditions. Most waterproof bandages come in a variety of sizes so that they can cover a number of different sizes and shapes of wounds. There are other kinds of waterproof bandages that are specifically intended for use on children and are sized accordingly. In some cases, these kinds of waterproof bandages are designed with colorful patterns or even popular cartoon characters in an effort to delight young children even when they are having a wound dressed.
Common waterproof bandages are ones that are designed for the feet. There are a number of waterproof or water resistant bandages that are meant for use on the heels of the feet where it is quite easy to get a blister. Additionally, it is quite easy for the feet to become wet or damp, especially for people who work outside or spend a great deal of time outside. One of the reasons that it is important to keep wounds dry, especially wounds on the feet, is that it can be difficult for a wound to heal if it is constantly damp. People who almost always have their feet in closed shoes or boots are even more likely to experience dampness on their foot wounds, a problem that can lead not only to improper healing, but also to infection.
It makes good sense to keep a few shapes of waterproof bandages in a home first aid kit. Preparedness is one of the best ways to take care of wounds at home, even if they wound will need medical attention shortly thereafter. Smaller waterproof bandages can be used on small cuts and to cover small areas of the body. Larger waterproof bandages can be used to cover large areas or large wounds. It is important, however, to have all serious wounds treated by a medical professional.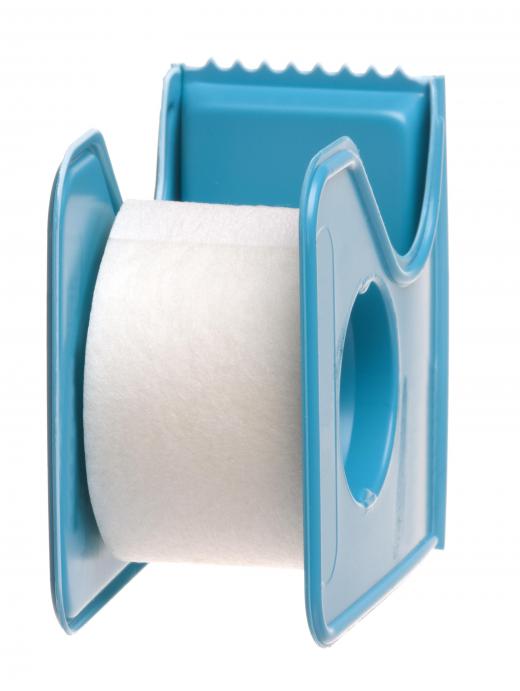 In addition to the kinds of bandages discussed above, there is also a kind of waterproof liquid bandage. This is usually used on very shallow cuts and scrapes. It can be applied to the skin in order to create a waterproof barrier against dampness and wetness. This, and all other types of waterproof bandages, may not stand up to being completely submerged in water. Submersion may create a need to dry the wound and reapply a bandage.


By: JPC-PROD

Waterproof bandages may be used to keep wounds dry.

By: casanowe

Most typical wound bandages are not waterproof.

By: ia_64

Immediate cleaning and bandaging of cuts will help prevent staph and other infections.

By: Shariff Che'Lah

Some medical tapes are waterproof.

By: Warren Goldswain

Some first aid kits include waterproof tape to affix bandages.

By: jovannig

Serious wounds should be treated by a medical professional.