What are the Effects of Cranberry on Urinary Tract Infections?
There are two main effects of cranberry on urinary tract infections (UTI). First, cranberry products can help alleviate the symptoms of an existing UTI such as burning during urination and abdominal and back pain. Second, cranberry products can help prevent future infections. Certain kinds of cranberry products work better than others when it comes to urinary tract infection prevention and symptom alleviation. Cranberry products aren't mainstream remedies for curing UTI, however, and doctors generally prescribe antibiotics to cure the infections.
The effect of cranberry on urinary tract infections that already exist is symptom alleviation. Once a person with a UTI begins using a cranberry product, UTI symptoms such as burning sensations and pain should begin to subside. The person might even notice his urine becoming clearer and other UTI symptoms such as nausea, dizziness, and bloody urine start to disappear. Note that symptom alleviation doesn't mean the infection is cured. It does, however, make the person more comfortable while undergoing treatment.
Some studies show it's possible to prevent UTI with cranberry products. This means the main effect of cranberry on urinary tract infections that haven't yet developed is prevention. Different scientific studies offer different explanations for this. One theory is that because cranberries are acidic, they make urine acidic, and the acid in the urine makes it difficult or impossible for bad bacteria to attach to the bladder walls. Another idea is that because bacteria is unable to communicate once it comes in contact with cranberries, it is also unable to attack the body and harm urinary health.
There are many kinds of cranberry products available, but certain kinds are more effective than others for urinary tract infection prevention or treatment. These products are easy to find. For example, most cranberry pills are marketed for urinary health and their packaging will clearly reflect that. Such cranberry pills are available without a prescription in drug stores and pharmacies, health and wellness stores, and some grocery stores. Cranberry juice is another common cranberry product for urinary health, but it's best to avoid juices with labels that read "juice cocktail," as these contain a great deal of sugar.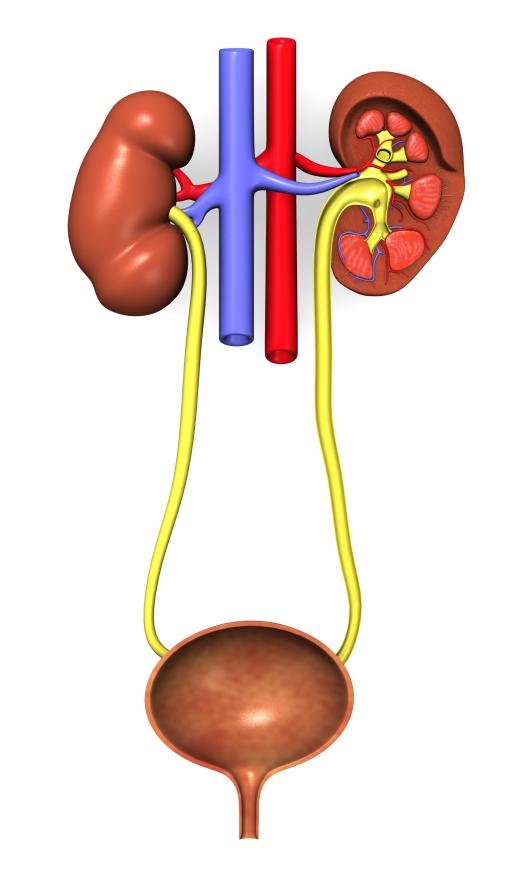 Although some people claim to have success with cranberry as a natural treatment for urinary tract infections, health care professionals generally don't prescribe or recommend using cranberry products as sole remedies. It's common, however, for doctors to recommend taking cranberry pills or drinking cranberry juice during treatment because of the symptom alleviating effects of cranberry on urinary tract infections. The most common medical treatments for urinary tract infections are antibiotics, which do require a prescription.
AS FEATURED ON:
AS FEATURED ON:

Cranberry juice can help with a urinary tract infection.

Cranberry pills can be used to treat a UTI.

By: 3drenderings

The human urinary tract.

By: Syda Productions

Antibiotics are the most commonly used treatment for urinary tract infections.