What are the Main Symptoms of Asperger's Syndrome in Adults?
Asperger's syndrome is a neurobiological disorder considered to be part of the autism spectrum. The exact cause of the condition is unknown, although many experts believe there is a hereditary component. Asperger's syndrome can affect people of all races and socioeconomic backgrounds, although it is three to four times more common among men. The condition is sometimes called Asperger's disorder, Asperger's, or AS in medical texts.
People with Asperger's syndrome may show symptoms throughout their entire lives, but most are not diagnosed until adulthood. People with Asperger's syndrome were often bullied as children or mocked for their highly unusual interests. However, since many children experience these difficulties, the extent of the problem is seldom recognized until much later.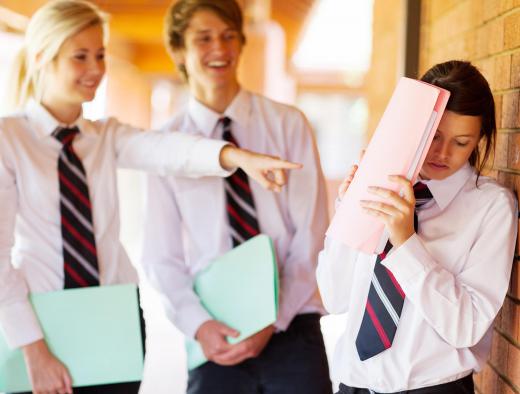 Essentially, Asperger's syndrome causes behavior that can best be described as "quirky." Bill Gates, Woody Allen, Bob Dylan, Keanu Reeves, Al Gore, and Garrison Keillor are some of the many notable public figures who experts believe show symptoms of Asperger's syndrome. There is also some evidence to suggest that Albert Einstein and Isaac Newton exhibited the condition as well.
Impaired social reactions are a key component of Asperger's syndrome. People who suffer from this condition find it difficult to develop meaningful relationships with their peers. They struggle to understand the subtleties of communicating through eye contact, body language, or facial expressions and seldom show affection towards others. They are often accused of being disrespectful and rude, since they find they can't comprehend expectations of appropriate social behavior and are often unable to determine the feelings of those around them. People suffering from Asperger's syndrome can be said to lack both social and emotional reciprocity.
Although Asperger's syndrome is related to autism, people who suffer from this condition do not have other developmental delays. They have normal to above average intelligence and fail to meet the diagnostic criteria for any other pervasive developmental disorder. In fact, people with Asperger's syndrome often show intense focus, highly logical thinking, and exceptional abilities in math or science.
There is no cure for Asperger's syndrome, but cognitive behavioral therapy, specialized speech therapy and counseling can help alleviate many of the condition's more troubling symptoms. If they learn to develop the appropriate coping mechanisms, people with Asperger's syndrome are quite capable of getting married, having children, becoming gainfully employed, and leading independent lives.
In recent years, many of the people who have been diagnosed with Asperger's syndrome have come to call themselves "aspies" or "Aspergians" in an attempt to reduce the stigma associated with their condition. In fact, there are a growing number of websites dedicated to celebrating Asperger's syndrome as an example of neurodiversity instead of an illness in need of treatment.
AS FEATURED ON:
AS FEATURED ON:

By: michaeljung

Although children with Asperger's are often bullied growing up, the disorder is typically not diagnosed until adulthood.

By: Monkey Business

Adults with Asperger's tend to avoid eye contact and are often awkward in social situations.

By: Lisa F. Young

People with Asperger's often are gifted in math or science.

By: Maik Meid

Experts say Microsoft's Bill Gates shows signs of Asperger's syndrome.

By: Martinan

Adults with Asperger's syndrome may struggle with communication, and other relationship issues.

By: Antonioguillem

People with Asperger's syndrome may have inappropriate emotional outbursts.

By: Igor Mojzes

People with Asperger's may have a hard time understanding nonverbal gestures.