What Are the Medical Uses of Methylene Blue?
Methylene blue, a commonly used stain employed to enhance tissue specimens viewed under a microscope, also has wide ranging medical applications. In addition to dying tissue during diagnostic and surgical procedures, this substance also acts as an antidote for cyanide poisoning. It is used for the treatment of methemoglobinemia, a condition characterized by the blood's inability to efficiently carry oxygen. As a medication, methylene blue can be taken orally or intravenously. Its potential role in treating malaria, Alzheimer's disease and cancer is a continuing area of research.
Both potassium cyanide and carbon monoxide poisoning have been treated using methylene blue as an antidote. It was first used for cyanide poisoning during the 1930s and was employed during the mid-20th century to treat carbon monoxide exposure. Still used to counter cyanide poisoning, hyperbaric oxygen has replaced it as the preferred method of treating carbon monoxide exposure. Another historic use of the drug is for the treatment of malaria; there is a renewed interest in using it for this purpose due to its cost effectiveness.
Methemoglobinemia is an excess of methemoglobin in the blood. Unlike hemoglobin, methemoglobin cannot carry vital oxygen to the cells and tissues of the body, causing the characteristic pale or bluish skin associated with this disorder. This condition may be congenital or induced by an exposure to certain chemicals. Infants are particularly susceptible to acquired methemoglobinemia when exposed to excessive levels of nitrates in water caused by agricultural runoff. Methylene blue is generally given intravenously to treat acquired methemoglobinemia, while oral doses are given for the congenital type of the disease.
Methylene blue also acts as a monoamine oxidase inhibitor (MAOI) and is used in the treatment of depression and anxiety. Serious side effects can occur if this medication is used with selective serotonin reuptake inhibitors (SSRIs). It is also used in the manufacture of antipsychotic medications prescribed to treat schizophrenia and other disorders. Research continues on its use with Alzheimer's and Parkinson's diseases.
In conjunction with antibiotics, methylene blue is administered orally to treat urinary tract infections. The blue dye is also used in diagnostic and surgical procedures of the bladder and other tissues and organs. It aids medical procedures by enhancing the tissues, making them easier to view. Methylene blue is used during laparoscopic, endoscopic and x-ray procedures.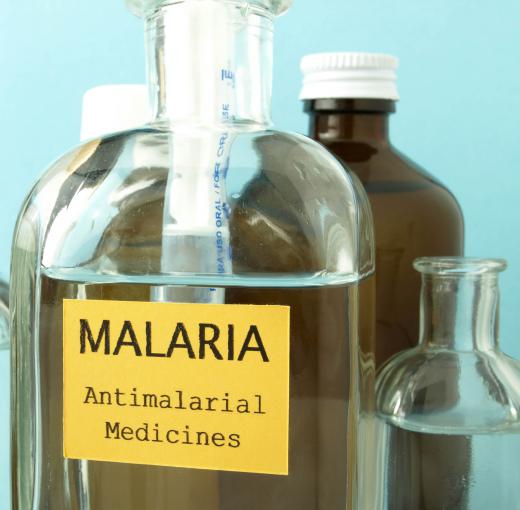 Studies continue researching the roles this medication might play in cancer treatment. It is used to help map lymph nodes in cases of breast cancer and is effectively used to treat neurotoxicity caused by the chemotherapy agent ifosfamide. As a direct treatment for cancer, methylene blue has been shown induce cancer cell apoptosis. Its use in conjunction with light is also being studied for treatment of cancer and other diseases.
The discoloration of the patient's urine and feces is a common side effect of this medication. Both might turn blue-green in color, which ceases after the medication is discontinued. Other side effects include nausea, vomiting and diarrhea. Rare side effects include fainting, excessive tiredness and irregular heartbeat.
AS FEATURED ON:
AS FEATURED ON:

By: snyggg.de

Serious side effects can occur if methylene blue is used with selective serotonin reuptake inhibitors.

By: luchschen_shutter

After a biospy, methylene blue is used to stain tissue specimens for better viewing under a microscope.

By: themalni

Methylene blue is a monoamine oxidase inhibitor (MAOI) that is used to combat depression and anxiety.

By: alejandro dans

Methylene blue has been used as a medication for malaria.

By: Cosmic

Methylene blue is often used during laparoscopic procedures.

By: 7activestudio

Methylene blue is administered in conjunction with antibiotics to treat urinary tract infections.

By: stockdevil

Methylene blue may be used while taking X-rays.

By: zonch

Side effects of methylene blue may include tiredness.