What are the Most Common Causes of Chills and Sweats?
There are many conditions that may lead to chills and sweats, and one of the most common is a bacterial or viral infection. Likewise, a person may develop these symptoms when he has a serious type of medical condition or disease, such as a type of cancer called lymphoma. Hormonal fluctuations, such as those experienced during menopause or as a result of a thyroid disorder, may also cause them.
When a person has a fever, which is often caused by an infection of some kind, it is frequently accompanied by chills and sweating. Someone who has the flu or a gastrointestinal illness that is caused by a virus, for example, may experience these symptoms. Bacterial pneumonia, strep throat, or even bacterial infections that affect the urinary tract may cause them as well.
Sometimes, a person who has chills and sweats may develop these symptoms because of a more serious health condition. They are a common symptom of lymphoma, for example, which is a cancer that affects lymphocytes, which are cells of the immune system.
For women, these symptoms can be related to menopause, and they often develop as a result of hormone fluctuations that cause hot flashes and sweating, which may then be followed by chills. This happens because a woman's production of the hormones estrogen and progesterone decreases during menopause, which may lead to a range of unpleasant symptoms. Often, a woman also experiences night sweats, followed by chills.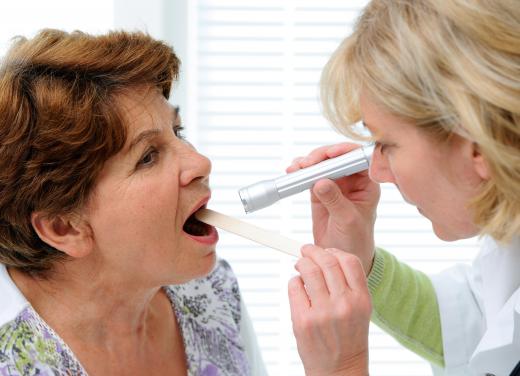 A disorder of the thyroid gland, such as hyperthyroidism, may also lead to chills and sweats. Hyperthyroidism is marked by the abnormally increased secretion of thyroid hormone by the thyroid gland. As a result of the additional hormones in the body, a person's metabolism changes and an increased amount of heat is produced. This heat may cause the affected person to suffer night sweats and chills.
AS FEATURED ON:
AS FEATURED ON:

By: CLIPAREA.com

Chills and sweats may occur as a result of a thyroid disorder.

By: Alexander Raths

Someone with strep throat may experience chills and sweats.

By: dandaman

Excessive sweating is often experienced by women during menopause.

By: Piotr Marcinski

A fever is frequently accompanied by chills and sweating.

By: kmiragaya

Dehydration, which can be caused by excessive drinking, can lead to headaches and night sweats.

By: Innovated Captures

Chills and sweats are commonly associated with painkiller withdrawal.

By: camrocker

Night sweats and chills are generally no cause for alarm.

By: brankatekic

Hormone fluctuations can case hot flashes.