What are the Most Common Causes of Pectoral Muscle Pain?
The pectoral muscle is located in the chest, and is required in order to move the upper arms and shoulders. Many people work out this large chest muscle often, while others merely use it when performing daily activities. Either way, pectoral muscle pain can indicate an issue since it usually means that the muscle has been strained, leading to swelling, bruising, and even the temporary inability to move the arms. This commonly occurs after lifting heavy weights, playing a sport without warming up properly, and general overuse.
Many weightlifters concentrate on working out the pectoral muscle frequently. If done correctly and with weights that are not too heavy, pectoral muscle pain can usually be kept at bay. Unfortunately, some weightlifters progress from low weights to very high weights too fast, and strain this large chest muscle. Even those who progress slowly sometimes forget to stretch first, tearing the muscle as they lift weights. Additionally, lifting weights above the head improperly, such as unevenly, can cause strain on at least one side of the muscle.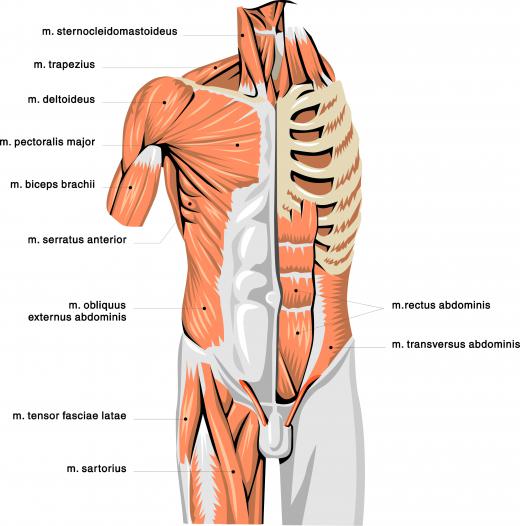 Even those who do not mean to work out their pectoral muscle can hurt them by accident. This is common in sports, especially those that involve contact with other players, such as football and wrestling. Forgetting to stretch before practice can lead to a strain that causes pain in the pectoral muscles. Of course, making sudden contact with the ground or another player can also cause injury to this area, tearing the chest muscle. Stretching first and attempting to protect the pectoral muscle from trauma can help avoid injuries.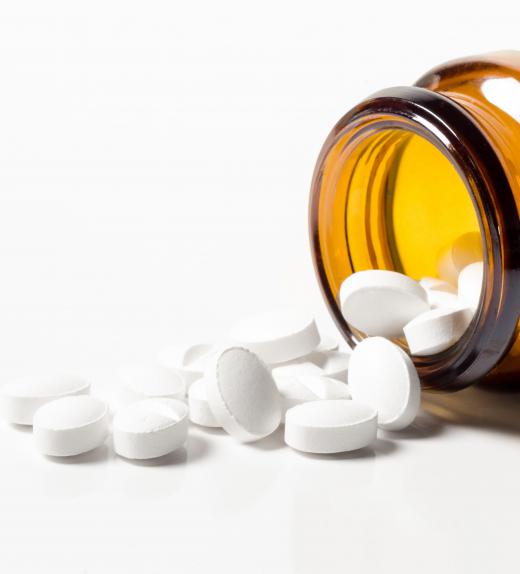 Just because someone does not lift weights or play sports does not mean that he or she can always avoid pectoral muscle pain. Many people lift heavy objects often, either at home or work. Frequent use of this muscle, especially when lifting heavy items without warming up first, can result in a strain.
Fortunately, this kind of injury can usually be prevented by remembering to stretch before using this muscle, as well as not lifting items that are too heavy. Pectoral muscle pain is usually treated with rest, pain relievers, and cold compresses to the area. It is important for people with a pectoral muscle injury to stop using the muscle until it is fully healed, and to see a doctor if home treatment does not work. This could be a sign of a severe chest muscle strain, or even a more serious condition that has been overlooked.
AS FEATURED ON:
AS FEATURED ON:

By: mikiradic

An anatomical illustration showing many muscles in the upper body, including the pectoralis major.

By: guysagne

Oral medication can offer relief from pectoral muscle pain.

By: rimglow

Apply a cold compress to an injured area to help reduce swelling and pain.

By: maxoidos

Moving from low weights to very high weights too quickly when working out pectoral muscles can strain the muscle.

By: Photographee.eu

Even people who don't work out may accidentally injure their pectoral muscles.

By: vgstudio

Performing incline bench presses too aggressively or with too much weight could strain, tear or cause pain in the pectoral muscles.