What are the Most Common Causes of Upset Stomach and Fatigue?
Upset stomach and fatigue may be a symptom of an underlying illness. These symptoms, however, are also commonly associated with consuming too much alcohol. Also, while being treated for sickness and disease, an upset stomach from antibiotics or other medications is common. Fever or diarrhea may accompany stomach discomfort, particularly in cases where a viral infection is present.
Consuming too much alcohol can cause upset stomach and fatigue, and can lead to excessive vomiting. Even small amounts of alcohol can have this effect, however. This is particularly true when people drink on an empty stomach, as there is nothing in the stomach to help absorb the alcohol and prevent it from irritating the stomach's delicate lining.
Upset stomach may also occur after eating foods that have spoiled or foods that do not agree with a person's system. For instance, spoiled milk, rotten meat and other food items digested beyond a safe expiration date may cause stomach upset. Vomiting, diarrhea and upset stomach are common after eating rotten or spoiled foods.
Cancer patients undergoing chemotherapy often experience upset stomach and fatigue after treatment. This is not unusual and many medical professionals will refer patients to a special dietitian to help create a diet that includes foods for upset stomach relief. While they may not always relieve vomiting, certain foods, such as ginger, may reduce an overwhelming sense of nausea often present after chemotherapy treatment.
Upset stomach from antibiotics is also common. Oral macrolide drugs, such as erythromycin, do not absorb well into the body, thus sometimes causing nausea and tiredness. Medical professionals suggest taking drugs like these with food to decrease the likelihood of experiencing an upset stomach as a drug side effect.
When upset stomach and fatigue cannot be traced to any of these reasons, a healthcare professional's examination may be in order. This is particularly true if a person is experiencing diarrhea or fever and upset stomach at the same time. Such may be the cause of an underlying illness, such as a bacterial or viral infection.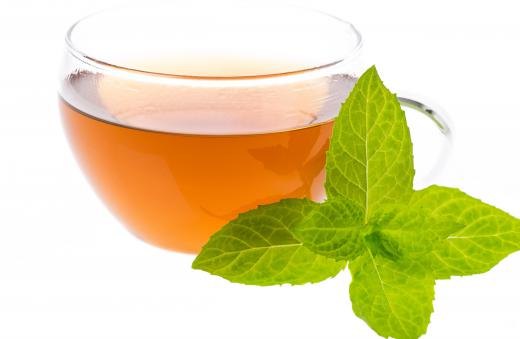 Over-the-counter remedies for upset stomach do exist and are among the most common ways of treating this discomfort. Many choose a more natural remedy, however, and use ginger for upset stomach relief, as it is known to calm the digestive system. Drinking carbonated soda for upset stomach is another common remedy for this condition.
Upset stomach and fatigue may be caused by a variety of issues. Most of these are not life threatening or cause for major concern. In most cases, they are commonly treated with rest and home remedies, such as soda or ginger. Prolonged symptoms, however, may be a sign of a more serious illness.
AS FEATURED ON:
AS FEATURED ON:

By: Balint Radu

Chemotherapy, antibiotics and excessive alcohol consumption have been known to cause upset stomach.

By: tashka2000

Ginger has long been recognized for its ability to ease nausea.

By: unpict

Peppermint and chamomile teas can sooth upset stomachs.

By: Brian Jackson

An upset stomach can be caused by anything from food to an underlying illness.

By: Jimerji

Some brands of dissolvable tablets may offer relief of upset stomach.

By: Ocskay Bence

Common symptoms of a stomach flu include low-grade fever, fatigue, and loss of appetite.

By: Alliance

People who drink excessive alcohol often experience nausea and fatigue the next day.

By: Alliance

Many antibiotics and other medications list stomach aches and fatigue as potential side effects.