What Are the Most Common Maca Side Effects?
Maca root is celebrated for its potential health benefits, but it's not without side effects. Common ones include altered mood, digestive issues, and hormonal changes. Have you experienced any unexpected reactions while taking maca, or has it been a smooth journey? Share your story below.
The root plant maca is enjoyed by many for its supposed health benefits, chiefly its stimulation of the male and female libido. There are a few maca side effects, though many are considered minimal. Consumption of maca aids in adult male fertility, which is considered a positive side effect, though it may have a negative effect on those with thyroid diseases or those who practice a low-sodium diet. Allergies have been reported among people who take maca, though overdoses are considered extremely rare, if reported at all. Information is unknown regarding the effects of taking maca during pregnancy.
Belonging to the Brassicaceae, or mustard family, raw maca is a radish-like perennial root plant. It is often sold as a powder to be mixed with drinks, sauces, and yogurts, or to be sprinkled on food. Many who take it claim that it helps fight fatigue, increase male and female libido, stimulate the immune system, and improve memory.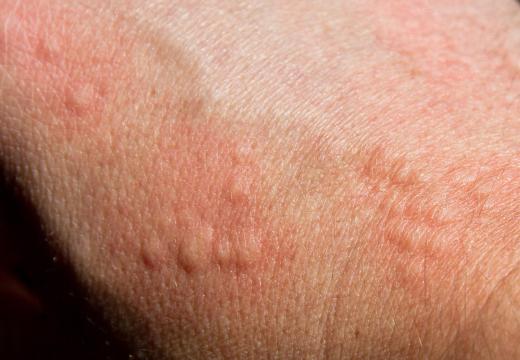 Maca side effects are generally considered minimal. Some side effects are actually perceived to be of a positive nature. While maca is usually just taken to increase libido and energy, it may actually increase fertility in men. A human study among adult males in 2001 displayed significant increases in subjects' sperm counts, sperm motility, and seminal volume. Such results, however, did not differ between those administered higher doses versus those given lower doses.
There are a few possible negative side effects associated with the consumption of maca. Those who have thyroid diseases are advised to avoid the substance, as maca contains iodine, which aggravates the side effects associated with such disease. Additionally, those who practice a low-sodium diet may wish to refrain from using maca. A low-sodium diet, combined with the consumption of chemical glucosinolate found in maca, may increase the chance of developing goiters. It is possible that maca may also trigger insomnia.
Some other minimal negative maca side effects included hives and fatigue. The chances of experiencing a harmful overdose of maca is considered insignificant, as it has a very low degree of oral toxicity. No adverse reactions were reported in studies among rats who were administered higher than normal amounts of the substance. Additionally, there are no reported maca side effects regarding its interaction with any drugs.
Further experiments are required to discover any maca side effects associated with pregnancy. Studies have not yet been conducted regarding fetal interactions with maca or its effect on breast milk. Due to this ambiguity, it is recommended that pregnant women avoid consuming maca.
AS FEATURED ON:
AS FEATURED ON:

By: Jürgen Fälchle

Side effects of maca can include hives.

By: bramgino

Maca may cause insomnia.

By: Marek

Maca generally has minimal side effects.