What Are the Parts of a Neuron?
Neurons are the primary signaling cells in the brain. There are four parts of a neuron: the cell body, the dendrites, the axon, and the presynaptic terminals. These all work together to send signals across the neuron to other cells.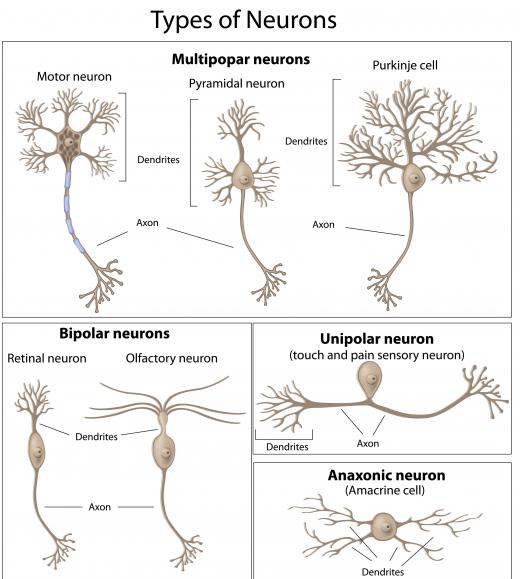 The cell body is where the metabolic functions that sustain the neuron take place. Residing in the cell body is the nucleus, which contains the genetic code. The endoplasmic reticulum, the part of the cell that synthesizes proteins, is also located in the cell body.
Dendrites are one of the parts of a neuron involved in signaling. They branch out from the cell body and form connections with other neurons. The dendrites receive signals from these neurons that change the polarization or electrical charge within the cell.
The axon is another one of the parts of a neuron that carry electrical signals. It extends from the cell body like the trunk of a tree and carries an electrical charge called an action potential from the cell body to the presynaptic terminals. Axons are coated in a white fatty tissue called myelin, which insulates the cell and allows electrical signals to travel faster. Breaks in the myelin sheath, called nodes of Ranvier, allow the action potential to regenerate.
Where the axon's branches end are called the presynaptic terminals. These terminals extend into the gap between neurons called a synapse. They send chemicals called neurotransmitters across the synapse to other neurons. Usually, the presynaptic terminals communicate with another neuron's dendrites, but they can also connect to a neuron's cell body or the beginning or end of an axon.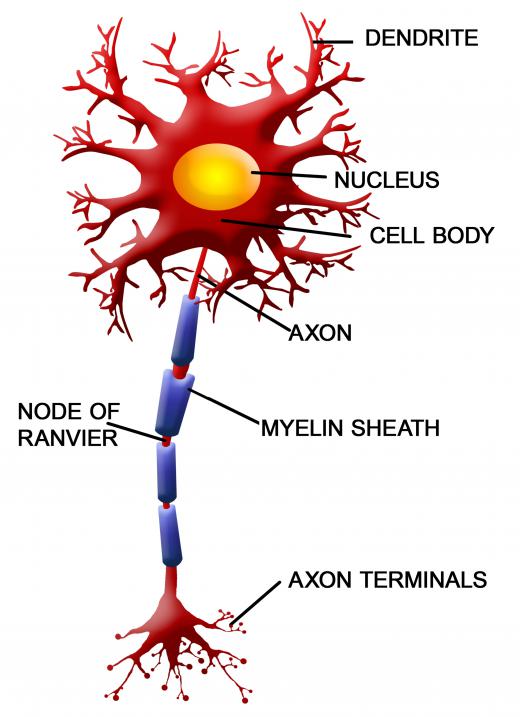 All the parts of a neuron are polarized, meaning the cell has a different electrical charge than the surrounding area. Typically a neuron is negatively charged at about -65 millivolts (mV), however, this can vary depending on the location and type of neuron. Signals from other neurons can change this charge, making it more positive or negative for a short time.
Neurons function in essentially the same way, by sending action potentials down an axon and releasing neurotransmitters to communicate to other cells. The meaning of the message is determined by the location and pathway in the brain activated. This means that neurons communicating visual information act the same way as neurons communicating muscle movement, however, their location tells the brain what type of information is being processed.


By: Alila

There are several types of neurons.

By: Sergey Nivens

The cell body of a neuron is known as the soma.

By: extender_01

A neuron usually contains positively-charged potassium ions (+K), while the sodium ions (+Na), also positively charged, reside in the periphery of the neurons.

By: Balint Radu

Dendrites are one of the parts of a neuron involved in signaling.

By: joshya

Multiple sclerosis is marked by the degredation of nerve cells' myelin sheath.

By: rolffimages

Our bodies contain trillions of synapse "data" connections, many of which are constantly active.