What Are the Pros and Cons of Outpatient Care?
Some pros of outpatient are the lower costs and less interruption of daily life, as patients can continue work or school sooner. Outpatient treatment is generally less expensive than inpatient care because the patient does not need a bed or much of a nurse's time and the hospital's resources. Some cons of outpatient care are its ineffectiveness for certain treatments and the need for a driver and caregiver. Addicts, for example, might not be able to recover on their own without constant supervision.
One pro of outpatient care is that the person can usually continue with school or work. He or she is not confined to a hospital bed and hospital equipment. Instead, the doctor performing the outpatient procedures might even encourage the patient to resume life as normal.
Outpatient care is typically cheaper than inpatient care because the patient does not spend extra time at the treatment facility. Furthermore, procedures suited to ambulatory care are simpler than those that can be performed only in an inpatient manner. For example, fixing a deviated septum is significantly easier and less risky than surgery on a major organ. The former is usually performed on an outpatient basis unless the patient has complications or certain risk factors, whereas the patient in the latter situation must be monitored closely for problems that can be fatal within hours.
There is a difference between choosing outpatient treatment for a surgery like septoplasty and treating drug or alcohol addiction. A minor surgery generally leaves most people capable of recovering on their own and only required to stop by for a checkup to make sure they are healing properly. Treating addiction on an outpatient treatment basis can be difficult, because the person is left to recover on his or her own and sometimes falls back on old ways. People who are being treated for addiction on an outpatient basis are often unable to do it on their own and might even require a dangerous detox.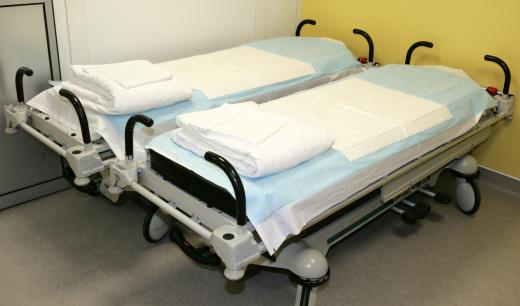 Even if a person chooses outpatient care, he or she will likely need someone to drive him or her home. In addition, that person or a hired nurse or caregiver might need to stay overnight to help the outpatient care patient perform daily tasks he or she can no longer do. For example, sometimes outpatient care patients are placed on prescription painkillers that can lead to poor decision making or the inability to walk properly. If the outpatient care patient was placed under anesthesia in a hospital, he or she might feel groggy and unable to resume simple tasks like walking immediately after waking up.
AS FEATURED ON:
AS FEATURED ON:

By: Gorilla

A patient may continue with work or school when undergoing outpatient care.

By: nyul

Outpatient care is typically cheaper than inpatient care.

By: Agence DER

Some people who rely on outpatient care may need to rent or purchase a special hospital bed during recovery.