What Are the Signs of an Allergic Reaction to Honey?
An allergic reaction to honey can vary from mild to potentially life threatening, depending on the severity of the allergy. Some of the most common signs of a honey allergy include respiratory symptoms, such as coughing or wheezing, along with itchy, watery eyes or a runny nose. Skin conditions, such as eczema, or gastrointestinal disturbances, such as vomiting or diarrhea, may sometimes occur. Swelling of the face, lips, or throat may indicate a severe type of allergic reaction known as anaphylaxis and constitutes a medical emergency.
Mild to moderate respiratory disturbances are common when a person has an allergic reaction to honey. This may include typical allergy symptoms such as itchy, watery eyes, a runny nose, sneezing, nasal congestion, and headaches. Infections may develop as a result of these symptoms, or the patient may feel foggy-headed. The immune system may become weakened, especially if honey is consumed on a regular basis in spite of the allergy.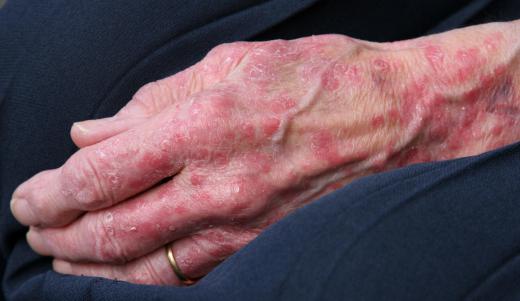 The reaction may lead to skin changes as well, and can include itching and the development of a localized or widespread rash. A raised rash that may itch and burn, known as hives, is a common allergic response. Ongoing use of honey by a person with an allergy to honey may lead to a skin condition known as eczema.
Some patients may experience a variety of gastrointestinal disturbances, including nausea, vomiting, or diarrhea as symptoms of a honey allergy. Abdominal discomfort or cramping may occur as well. Excessive diarrhea or vomiting should be reported to a medical professional, and patients should be careful not to become dehydrated. Drinking plenty of fluids is usually enough to prevent dehydration, although severe cases of diarrhea or vomiting may require IV fluids in a hospital setting.
Anaphylaxis may occur during a severe allergic reaction to honey. This can become fatal within a matter of minutes if emergency medical attention is not obtained. Symptoms of anaphylaxis may include swelling of the face, lips, or tongue, and the development of a rash that may or may not itch. Breathing may become difficult, sometimes causing the patient to lose consciousness. If anaphylaxis is suspected, emergency medical professionals should be contacted immediately, as attempting to transport the patient to the hospital via traditional means may not be fast enough.


Honey.

Piece of a honeycomb.

By: marilyn barbone

Signs of an allergic reaction to honey may include hives.

By: defun

Itching and rashes are common skin problems associated with an allergic reaction to honey.

By: Tom Wang

Vomiting is a common sign of an allergic reaction to honey.

By: Brent Hofacker

Just like most all food allergies, honey allergies can cause minor skin rashes or dangerous breathing problems.