What Are the Signs of an Allergic Reaction to Lotion?
The signs of an allergic reaction to lotion include a rash and itchy skin. An allergic reaction to any substances that have come in contact with the skin may be referred to as contact dermatitis, and it often leads to redness, burning, and chafed skin. In severe cases, the individual may develop skin blisters. Lesions that ooze with pus may indicate a skin infection.
When a person is allergic to lotions, the reaction is likely to be on the skin where it was applied. The skin may become dry and peel, or become wrinkled and flaky. The lotion is likely to irritate the skin, causing it to burn or tingle. The inflamed area may be red and warm to the touch. The signs of an allergic reaction to lotion may occur shortly after using the product, or take as long as a day or two before they appear.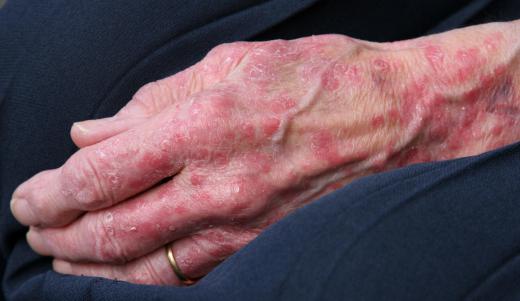 Swelling or hives may develop as a reaction as well. These symptoms may range from mild to severe, and may require medical treatment. A medical professional may prescribe hydrocortisone cream or an antihistamine to reduce swelling and inflammation. If swelling occurs around the eyes or mouth, it is vital for sufferers to see a healthcare professional at once.
When blisters erupt from an allergic skin reaction, it is very important for the sufferer to stop using the lotion immediately and talk to a medical professional. Blisters caused by skin allergies can become infected. If there is discharge or pus oozing from an open sore after using lotion, topical or oral antibiotics might be required.
Depending on what the individual is allergic to, a reaction might be prevented by choosing natural or organic products, although this is not always the case. If signs of an allergic reaction to lotion are evident, it's best for the individual to make note of the ingredients used in the product. Avoiding those ingredients in the future may help prevent a recurring problem. Choosing fragrance-free products can often help prevent skin allergies as well, as these ingredients are more likely to cause a reaction.
Lotions containing cocoa butter or shea butter may cause skin allergies in some people. People who have suffered from allergies in the past migth want to perform a simple patch test by applying a dab of lotion to a small area of skin. It's important for the individual to look for changes on the skin after 12 to 24 hours. If the skin becomes itchy, red, or swells, the lotion should not be used.
AS FEATURED ON:
AS FEATURED ON:

By: CandyBox Images

An allergic reaction to skin lotion may cause tingling skin.

By: marilyn barbone

Signs of an allergic reaction to lotion may include hives.

By: maska82

An allergic reaction to skin lotion can cause red, dry skin.

By: carroteater

Hydrocortisone cream can be used to treat the swelling and itching associated with an allergic reaction.

By: stockdevil

People who have had allergic reaction in the past should test any new lotions on a small patch of skin.

By: jinga80

Itching that is accompanied by other symptoms such as a swollen tongue or throat should be addressed by a doctor immediately.