What Are the Signs of an Allergic Reaction to Pads?
An allergic reaction to sanitary pads would likely cause symptoms similar to an allergic reaction to anything else, including itching, redness, swelling, or skin irritation. Most often, these symptoms would occur in the genital region, although some severe reactions may cause symptoms over a broader area. Signs of a severe reaction, although rare, would include severe swelling and trouble breathing.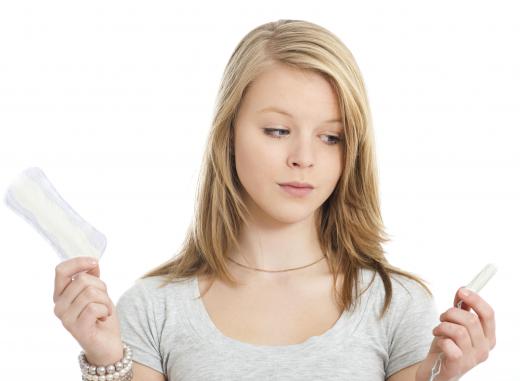 It is relatively rare that a woman would have an allergic reaction to pads. When it does occur, it is most commonly linked to feminine pads that contain added fragrances. Sometimes, a reaction may occur in response to the chemicals used to make the pads absorbent. The first sign of a reaction is often vaginal itching and irritation, and this may be followed by redness or irritation. Women experiencing these symptoms while using pads should switch to a different item and contact a healthcare professional.
More severe allergic reactions may lead to breathing problems, wheezing, or severe swelling. Anyone with these symptoms should seek medication attention immediately, since this type of reaction could cause severe complications or even death.
Women who think they may be allergic should first check the product package. If there are scents or fragrances in the product, the best course of action is to switch to a variety without them. When there are not added fragrances, switching to another brand may resolve the problem, since different manufacturers may use different additives or chemicals. Once the offending pads are removed, symptoms should subside relatively quickly. If irritation or itching persists, another condition may be to blame.
There are alternatives on the market for women who prefer to reduce the risk of developing an allergic reaction to pads. Real cotton pads are available, many of which are organic, and they come in a wide range of colors and absorbency. They are also reusable and environmentally friendly, so these pads may cost less long-term. Feminine cups, which are placed inside of the vagina to catch liquid, are also sold, and many women find them to be highly effective.
This type of allergic reaction can cause many of the same symptoms as other conditions. Itching, redness, and general irritation could also signal a vaginal infection. Using scented products makes getting an infection more likely, so if switching products doesn't relieve the symptoms, a visit to a medical professional is in order for additional testing. Hives, although commonly caused by an allergic reaction, may look similar to genital warts and should also be checked by a medical professional.


By: lukasmajercik

Sanitary pads may contain chemicals that can cause allergic reactions in sensitive people.

By: DoraZett

Using a tampon is preferable to using pads for some women.

By: kellyreekolibry

Choosing unscented, undyed pads can reduce the risk of allergic reaction.

By: Maya Kruchancova

Most girls start to menstruate between the age of 10 and 15 years old.

By: Rob Byron

Hives may occur as a result of an allergic reaction to pads.

By: Dmitry Lobanov

Itchiness can be an indication of an allergy.