What Are the Stages of Early Childhood Development?
Early childhood development is divided into various stages from birth until a child is eight years old. Each of the stages of early childhood development involves physical, cognitive, emotional, and social advancement that parents can use to judge the normal development of a child. Social ability, language, and mental state advances as a child gets older as well. An infant does not speak but is able to make sounds in order to communicate with parents; he or she will normally begin to speak words after a year and quickly develop a vocabulary.
During the first few months of a baby's life, he or she needs to be protected, fed a nutritional diet, and be provided with both language and sensory stimulation. Even before three months, a baby can track moving objects and identify faces, respond to sounds, and smile. The infant will be calmed when someone holds him or her, but after four months take preference to the parent or sometimes an older sibling. Listening skills develop and imitation to sounds becomes more frequent. A baby up to six months old will make more use of their hands and feet to explore the world and be able to sit or roll over.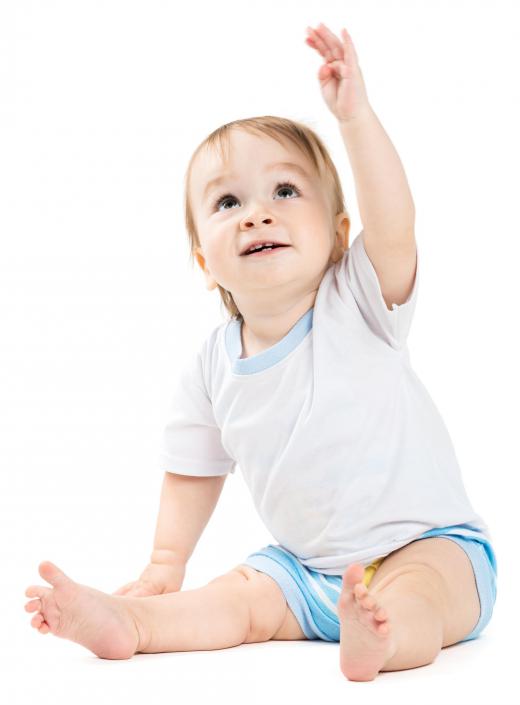 The stages of early childhood development advance between seven and 12 months when toddlers can recognize their individual identity. Word recognition and memory improve and the identification of one's name becomes apparent at this stage. After a year, a child usually begins to walk and climb, and understands words enough to speak them. He or she should be able to solve basic problems and understand when a milestone is accomplished, and can also imitate others and pretend by age two.
From two to three years, children learn words quickly and turn to more independent actions. From three and a half to five years of age, a child's attention span develops further, and he or she begins to ask questions and experiment with words. During this part of early childhood development, he or she takes note of physical abilities, shows their feelings, and shares and interacts with friends. Reading and writing abilities enter the stages of early childhood development during this time and continue to develop through age eight.
Typical early childhood development includes the most dramatic changes in a child's life. For example, a toddler usually doubles in height over the first three years. The stages of early childhood development each require careful attention, and one way to ensure normal development is through early childhood development education. Professional evaluations can also help to spot any physical or learning problems early on.
AS FEATURED ON:
AS FEATURED ON:

By: Аrtranq

Sensory abilities begin to develop during infancy and early childhood.

By: Halfpoint

During a child's first few years of life, they develop the ability to walk, talk, and begin more independent actions.

By: Barbara Helgason

Between seven and 12 months of age, babies begin to recognize themselves as individuals.

By: Tom Wang

According to Jean Piaget's groundbreaking theory, humans pass through four distinct stages of cognitive development.

By: altanaka

Between the ages of 3 and 5, a child's attention span lengthens and she begins to play with language and ask questions.

By: jolopes

Toddlers usually double in height over the first three years.

By: karelnoppe

The type of discipline that a young child receives can have a great influence on her emotional and social development.

By: Aliaksei Lasevich

Young children who are from low-income families may not have ready access to invaluable early childhood education.

By: JenKedCo

Developing literacy skills is important for young children.