What Can Cause a Staccato Cough?
A staccato cough is one that occurs in short, abrupt bursts and is sometimes compared to the sound of a machine gun. There are several reasons why an individual might develop a staccato cough. In children and older adults, this cough is most commonly caused by chlamydia pneumonia. These coughs can also be caused by certain medications, serious cases of whooping cough, and other respiratory infections.
Certain medications, specifically angiotensin-converting enzyme (ACE) inhibitors, can cause a staccato cough. Developing a persistent cough like this is usually the sign of a negative reaction to the medication. If the cough worsens or becomes painful, the patient should consult his or her physician. It might be possible to switch to another medication that will not cause this side effect.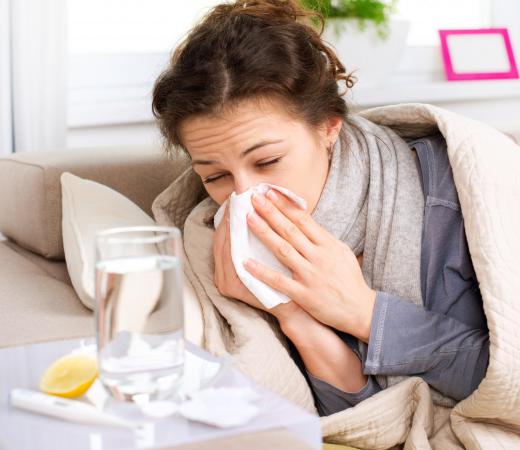 Pertussis, or whooping cough, can also develop into a staccato cough. Whooping cough is often defined in three stages. In the first stage of the illness, a person will begin coughing and develop a runny nose. It is not until the second stage that most people begin suffering from fits of coughs. If the infection goes untreated, the cough can worsen and persist for several weeks.
Chlamydia pneumonia is a respiratory infection caused by the Chlamydophila pneumoniae bacteria. This infection is most common in children between the ages of five and 15, but might also appear in infants, seniors and sometimes healthy adults. In most cases, chlamydia pneumonia begins with a sore throat and cough. The cough often worsens into a staccato cough and is sometimes followed by bronchitis, pneumonia and other conditions. While antibiotics are often used to encourage recovery, patients will usually continue coughing for two to six weeks.
In addition to whooping cough and chlamydia pneumonia, other respiratory infections can also cause this type of cough. These coughs are usually indicative of swelling in the lungs and airways. Infections that cause swelling in these areas, such as viral pneumonia, laryngotracheitis and acute bronchitis, will sometimes lead to a staccato cough. People who suffer from allergies might also experience this type of coughing.
While this is less common, these coughs can also develop after inhaling an irritating substance. After inhaling an irritant, an individual might experience persistent, abrupt fits of coughing. In most cases, this coughing will improve on its own. Coughing that persists, causes trouble breathing, or becomes painful should be checked by a physician. While most coughs will not lead to serious health problems, they can be indicative of a more dangerous condition.
AS FEATURED ON:
AS FEATURED ON:

By: Subbotina Anna

Staccato cough may develop as a result of chlamydia pneumonia.

By: Klaus Eppele

Some medications can cause a staccato cough.

By: kmiragaya

Pertussis, or whooping cough, can cause the short burst of coughing known as a staccato cough.

By: Lisa Eastman

A staccato cough may be a sign of a respiratory tract infection.

By: Ljupco Smokovski

Staccato coughs can indicate swelling in the lungs.

By: creo77

Viral pneumonia can be diagnosed via chest X-ray.

By: StockPhotosArt

A humidifier may be helpful in treating a cough.

By: Rob Byron

Urine samples may be ordered to determine if a patient has chlamydia.