What Causes a Sore Throat on One Side?
There are many factors that can cause a sore throat on one side, including abscesses in the throat or tonsils, swollen glands, and infected lymph nodes. Vocalizing excessively, through shouting, singing, or even speaking, can also cause problems. In some cases, dental issues, such as an impacted tooth, can be connected to single-sided throat pain as well, as can environmental factors, like exposure to harsh chemicals.
Medical Causes
Bacterial infections, such as strep, can result in a sore throat on one side. When bacteria invades the throat, it can cause the tissues to swell up and make them feel scratchy or sore. An infection in other parts of the head, such as in one ear or the sinuses, can also result in a sore throat on one side. Ear infections can irritate nerves connecting the ear and throat, causing discomfort in both areas. Mucus may drip from the sinuses into the throat when someone has a sinus infection, causing irritation on one side.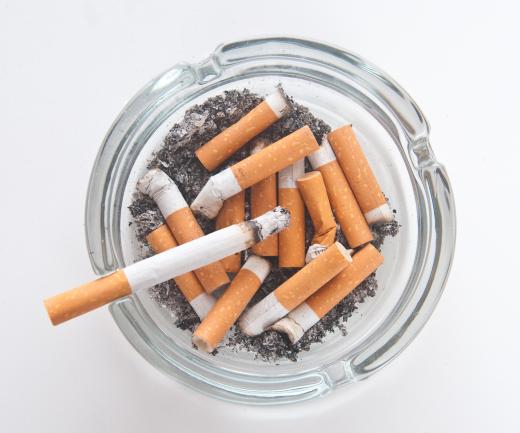 Glands and lymph nodes around the throat may swell when the body is fighting off an infection. Many people develop swollen or tender lymph nodes on one or both sides of the neck when they are coming down with a cold or flu. While this is generally a natural response to common illnesses, it can cause pain on one side and difficulty swallowing.
A peritonsillar abscess is a rare condition caused when a bacterial infection develops on one tonsil, usually as a complication of the more common illness, tonsillitis. As the bacterial colony grows, it causes swelling and packets of pus on the tonsil, which may lead to severe discomfort on one side. A person with a peritonsillar abscess may have trouble swallowing and a high fever. This condition is often treated with antibiotics, but draining or removing the tonsils may be required.
Throat aches caused by minor bacterial and viral infections, such as the common cold, usually clear up on their own. If the infection gets worse or lasts for several weeks, taking antibiotics or antiviral drugs may become necessary. Usually, once the medication has a chance to work, throat pain and other symptoms go away.
Vocal Nodules
Occasionally, people who use their voices excessively may develop a sore throat on one side. Talking or singing loudly for extended periods of time can sometimes cause small growths, called nodules, on the vocal cords. While these nodules are non-cancerous and not considered dangerous, they can result in chronic sore throat and other symptoms, such as hoarseness. Singers, actors, and others who perform loudly for extended periods of time are the most common victims of this condition.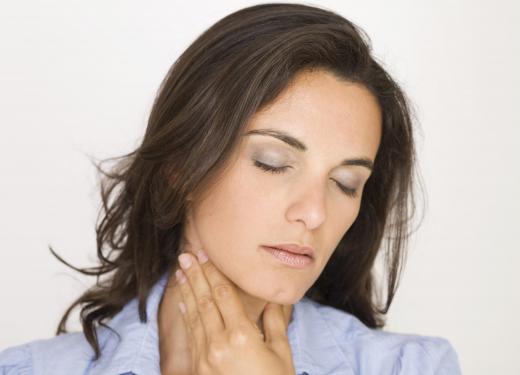 Maintaining near total silence for several weeks can sometimes allow pain to subside and lets vocal nodules heal. For performers, this often includes avoiding singing or performing for several weeks, and talking only when it is absolutely necessary. In some serious cases, surgery to remove the nodules may be the only option to fully treat the condition.
Dental Causes
Some people may experience an itchy or painful throat after having dental work done. Sometimes, this is caused by breathing through the mouth throughout the procedure. Tiny pieces of debris from drilling can also cause temporary inflammation in the throat and pain on one or both sides. Most of the time, a sore throat caused by dental work subsides after a few hours; if it persists for several days, it can be a symptom of an infection.
Certain dental conditions, such as an impacted tooth which is a tooth that cannot break through the gums, can also result in swelling and pain in the mouth and on one side of the throat. If an impacted tooth is causing irritation, extracting it may be the only way to get total relief. Even though this can be an unpleasant procedure, getting the tooth extracted quickly will help stop the symptoms and prevent serious infections from developing in the throat and mouth.
Environmental Factors
Irritants in the air can occasionally be responsible for a sore throat. People with severe allergies may be more prone to respiratory inflammation, and may experience pain on one or both sides. Cigarette smoking or inhaling second-hand smoke can also irritate the lining of the throat and may cause discomfort. Avoiding exposure to these substances may be key to reducing the symptoms
Relieving Pain and Discomfort
While treating the underlying cause of a sore throat on one side will usually help get rid of the problem permanently, there are also ways to temporarily reduce throat pain. Some good home remedies include sipping warm tea with honey or using lozenges. Alternative medicine practitioners frequently recommend soothing herbs, such as slippery elm and chamomile. For pain that is associated with a cold or bronchitis, some over-the-counter cold medications can help reduce symptoms. If a sore throat on one side persists for several days, gets suddenly worse, or comes with a fever or vomiting, people should see a health care professional.
AS FEATURED ON:
AS FEATURED ON:

By: pixelcaos

A crossection of the human head, including the throat.

By: Oleg Zinkovetsky

Cigarette smoke can irritate the lining of the throat.

By: hitdelight

Singing for extended periods of time can cause small nodules on the vocal cords.

By: Adam Gregor

Swollen glands may cause a sore throat on one side.

By: kostrez

Throat lozenges can help relieve throat pain.

By: NorGal

Antibiotics are effective against certain throat conditions, such as strep throat or abscesses.