What Causes a Swollen Larynx?
A number of conditions can cause a swollen larynx, ranging from an infection in the larynx to exposure to irritating fumes and smoke. People with swollen larynxes often experience issues like a raspy, hoarse voice and difficulty swallowing. An ear, nose, and throat specialist can evaluate the patient to determine the cause of the swelling, and provide information about treatment options. People may need to seek treatment for a swollen larynx, as it may indicate a serious problem.
Inflammation caused by vocal cord strain, as seen in people like cheerleaders and singers, can be a potential cause of a swollen larynx, as can infections with viruses and bacteria. Growths like nodules, polyps, and scarring along the vocal folds can all contribute to irritation and swelling. Another potential cause is inhalation of an irritant like paint fumes, smoke with lots of particulates, or inhaler propellant used for inhaled medications.
Cancer is another potential reason for a person's larynx to develop swelling. People with cancers of the larynx may also notice swelling around the lymph nodes, and can develop bloody coughing and difficulty speaking. A condition known as laryngopharyngeal reflux disease, where stomach acid backs up into the larynx, is also a known cause of swollen larynx, and can lead to discomfort while swallowing along with difficulty speaking.
If a patient notices mild swelling, drinking lots of fluids and resting may resolve the problem within a few days. If the swelling persists, grows worse, or is accompanied by the development of new symptoms, it is advisable to seek treatment for a swollen larynx. A doctor can perform a physical examination and review the patient's medical history to collect diagnostic clues, using this information to arrive at a diagnosis.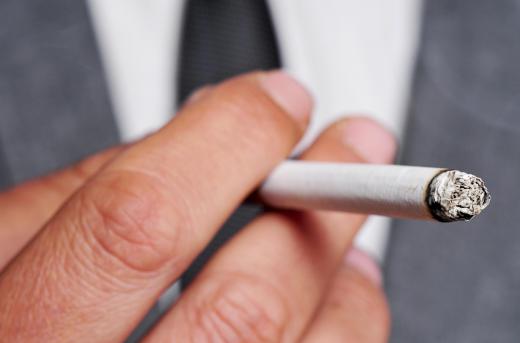 Treatment options can include medications, rest, vocal exercises with a coach, and surgery, depending on the specifics of a patient's case. It is important to follow treatment directions carefully, particularly with respect to rest. Many patients may push their larynxes too soon after injuries and illnesses by talking and singing, causing a setback in their healing. Even if a patient feels fine, it is wise to get an all-clear from a doctor before using the voice again, in order to limit the potential of recurring inflammation in the larynx. A patient who has a history of swollen larynx, and sings or otherwise relies on the voice to make a living, may also want to consider working with a speech-language pathologist during recovery to limit the risk of reinjury.
AS FEATURED ON:
AS FEATURED ON:

By: AVAVA

A doctor should always be consulted if a child experiences a swollen larynx.

By: Alila Medical Media

The larynx is commonly called the voice box.

By: nito

Chronic smoking can damage vocal cords.

By: Anyka

Vocal cord strain may cause a swollen larynx.

By: bst2012

When a swollen larynx is accompanied by lymph node swelling, a more serious health issue may be indicated.

By: ViewApart

Cheerleaders depend on their voices and should be aware of strains on their throats.

By: Max Tactic

A swollen larynx may be due to the presence of cancer.