What Causes a White Scab?
A white scab is usually caused by trapped moisture, but other possibilities include extended exposure to thick ointments, allergic reactions, and skin infections. Skin cancer and certain autoimmune conditions can also cause skin lesions that look like white scabs, though in these cases there isn't usually any sort of cut or scrape underneath. Scabs aren't typically white, and the lack of color is often a sign that something isn't quite right. People who notice pale-colored wounds or who have skin abrasions that seem to suddenly lose pigmentation should probably seek medical attention if things don't get back to normal after a day or two.
Trapped Moisture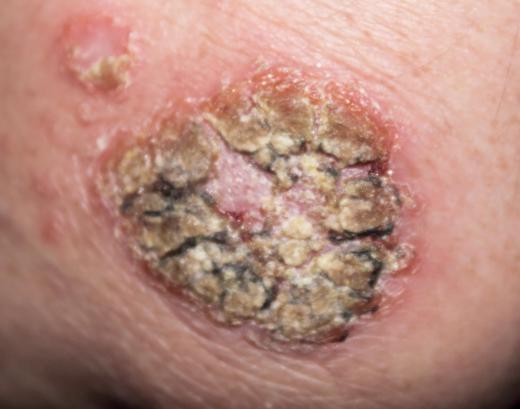 Water is far and away the most common cause, though in this case the color change is just temporary. Scabs are the body's way of protecting skin as it heals, basically by creating a natural bandage that "seals" the area from environmental elements and stops surface bleeding. They aren't impenetrable, however, and water is actually able to seep in relatively easily. Newly formed skin is not attached to the scab, and there is often just enough space in between to allow moisture to get through.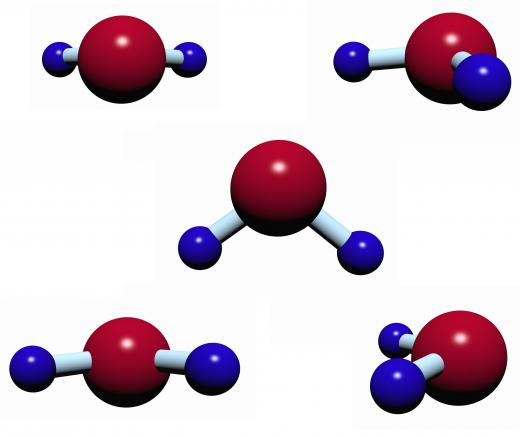 People who take long baths or showers or who spend a lot of time swimming are the most at risk for this sort of discoloration. Water molecules cause the tissues on the skin's surface to retract and pull away, which can leave scabs seemingly colorless for many of the same reasons that fingers and toes often look pale and wrinkled or prune-like after too long of a soak.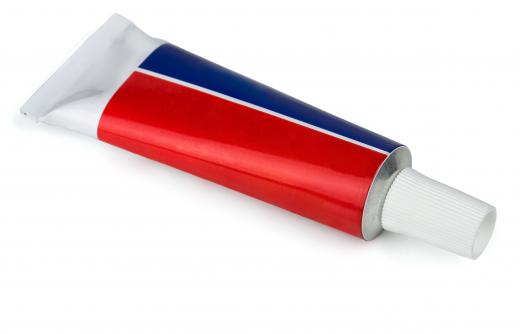 The normal reddish-brown color will usually come back on its own after an hour or so, though people can help the process along by gently drying the area with a soft cloth and leaving it exposed to the air. Moist scabs are usually quite soft and there's a danger of them lifting away from the skin and separating before the healing process has finished. It can be tempting to put a bandage on the wound to hold things together, but most experts recommend that people hold off until everything is completely dry. As the moisture evaporates, the scab will harden and return to its normal appearance. Removing the soft white material can cause the healing process to start over, increasing the overall healing period and possibly leading to scars or permanent skin damage.
Reaction to an Ointment or Cream
Scabs sometimes also turn white if they've been coated in thick ointments or creams for too long. Using first aid creams can be a good idea for wounds, but discoloration is one of the first signs that something isn't right. Poor air circulation is often the culprit, though allergic reactions and topical skin irritations are also possibilities.
People who cover their wounds in ointments and bandages risk cutting off air flow to the affected area, which can make it harder for the body to heal itself. Scabs don't always turn white under these conditions, but when they do it's usually a sign that the area needs more oxygen. Rinsing the wound and allowing it to have regular exposure to the air will often solve the problem.
A person who is allergic to a certain ingredient in a lotion or cream might also experience discoloration, though this is typically caused more by skin chemistry and reactivity than by anything environmental. Most of the time this can be solved simply by discontinuing use of the problematic product, but some people may also need to take antihistamines or other allergy medications in order to help things calm down.
Infections
Infected wounds sometimes also have scabs that appear to be white due to the body's immune response. There are many reasons why a cut or scrape might get infected, but contact with bacterial strains or other contaminants is one of the most common. When this happens, the skin around the wound will often be red and hot to the touch, and pus may ooze from underneath the scab. In most cases it's the puss that makes the scab look white; when this is drained, most people see that the red-brown color was actually still there all along.
Most minor infections can be treated with a topical antibiotic ointment and clean bandages, but anyone who notices puss or oozing from their wounds should seek medical attention. Infections are often more serious than they seem at first, and can spread if not properly treated.
Skin Cancer and Viruses
Sometimes white lesions suddenly appear that look like scabs but in places that haven't recently been scraped or cut. People who notice these on their bodies should usually consult a healthcare professional right away, since some skin cancers take on this appearance in the early stages. Medical experts can biopsy the lesions in order to determine if they were caused by cancer or some other skin condition. Herpes and human papillomavirus, for instance, can also cause small, white spots that may look like white scabs at first.
Treatment and Advice
Most experts recommend a "wait and see" approach to white scabs. People are usually advised to keep the area clean and dry, then watch it for a day or two. If the color doesn't return or if the area gets paler, grows inflamed, or becomes painful, medical attention is usually necessary.
At Home First Aid Kits
Not every injury requires a doctor's visit or an emergency call. Having appropriate treatments in a home for adults and children is good advice.
Most of us can handle a small cut or bruise. Our immune system rushes to the source and begins the healing process. But we want to help that natural process along.
It can be a traumatic experience for small children when they get scrapes and bruises. The best approach is to have the proper remedies and OTC (over-the-counter) medications. Keep allergy treatments on hand.
Preparing the First-Aid Kit to Prevent and Cure White Scabs from Becoming Infected
It's impossible to prevent injuries as we navigate life. Although we want to protect our families and friends, minor accidents happen.
Most cuts and scrapes heal independently. We hardly notice them after the initial incident. Elderly and small children may need some additional assistance.
Keep a complete set of first-aid kits in your home and car. Store them in a safe place away from excessive heat. Alert everyone in the family where they are stored, but keep them out of reach for children and pets.
Many pharmacies and online shops sell fully assembled kits. Or, if you have a specific product preference, create your own to match your family's requirements.
Before heading to the store, investigate what useful items you already own. Sort through the medicine cabinet and safely dispose of expired medications.
First-Aid Items to Pack in a First-Aid Kit
Organizing essential first-aid items in a portable bag or sealable tote helps in emergencies.
First-Aid Items to Pack in a First-Aid Kit
Storing and organizing essential first-aid items in a portable bag or sealable tote is a great way to manage an at-home kit.
Items for your kit:
Quality adhesive tape
Assortment of premium quality and sizes of bandages (fun patterns for children)
Super glue
Sterile gauze pads
Gauze rolls non-stick
Instant cold-gel packs
Cotton swabs and pads (non-lint)
Non-latex disposable gloves (several pairs)
Hand sanitizer
Tweezers, scissors, a suction device for rinsing (like a turkey baster)
Saline solution & eye rinse
Antibiotic ointments or creams
Thermometer
Surgical mask
Hydrogen peroxide
Multipurpose syringe, spoon
Triangular cloth or scarf to create a sling
Antiseptic wipes
OTC medications:
Consult your physician about keeping anaphylactic treatments. Keep an auto-injector of epinephrine on hand for anyone dealing with severe allergies.
Pain relief medications like Tylenol, Aspirin (not for children), Advil, Motrin, etc
Anti-nausea and anti-diarrhea medications
Anti-itch soothing lotions like calamine for skin rash
Antacids
Cough and cold remedies
Person prescription medicines
Hydrocortisone ointments or creams
Aloe vera gels for burns
Asprin, including "baby aspirin," should never be administered to children. Aspirin can turn into a life-saving treatment for adults with unexplained chest pain. Sudden and unexplained chest pain may signal a heart attack. Call emergency services immediately for assistance. 
Vital Contact Information
Minor accidents don't often involve full medical attention. Cuts and bruises can be treated at home with success, but being prepared is a great way to protect loved ones. 
When preparing an at-home and road kit, keep emergency items and numbers in the kit. Our minds become overactive during minor emergencies, and thinking clearly can spiral.
Include in your kit:
Contact numbers of next of kin, family physician, and pediatrician
Local emergency numbers and addresses, 
Poison Control Hot-line call 1-800-222-1222 24/7
Keep medical consent forms
Note necessary medical conditions and history
For your vehicle, also keep:
Pen and paper
Matches or lighter
Space blanket to ward off chills (mylar foil)
Flashlight with spare batteries
Emergency phone (solar charger)
Ample water, electrolytes, nutritious snacks
Insect repellent
Sunscreen
Change of unisex garments
Perform Routine Kit Checks
Accidents catch us off guard, but that doesn't mean we can't be prepared. Chances are, you open the trunk of your vehicle every week when you unload groceries. Make a mental note to do a routine inspection and discard and replenish outdated items in your road kit.
Consider taking a first-aid course through the American Red Cross. They offer age-appropriate classes for children and young adults too.
Teaching children preventative and emergency response techniques goes a long way. Learning to cope with boo-boos and treating cuts, bruises, and white scabs is important. Differentiating between normal circumstances and medical emergencies is vital.
AS FEATURED ON:
AS FEATURED ON:

By: ArTo

A white scab has many causes, some serious.

By: Ioana Davies (Drutu)

Trapped water molecules are the most common cause of a white scab.

By: Coprid

Most minor skin infections can be treated with a topical antibiotic ointment.

By: salpics32

Scabs sometimes turn white if they have been coated in thick ointment for too long.

By: Juri Samsonov

People who take long showers may be susceptible to experiencing a white scab.