What Causes Menstrual Cramps?
Menstrual cramps are contractions of the uterus. When a female menstruates, special hormones are released. These hormones, called prostaglandins, work to stimulate the muscular contractions necessary for shedding the uterine lining. As prostaglandins trigger menstrual cramps, they also take the heat for the pain that so often accompanies them.
Though menstrual contractions are not as strong as the contractions experienced during labor and childbirth, they do involve the same muscles. Some women experience cramps with every menstrual cycle, while others experience them only occasionally. Menstrual cramps can be uncomfortable, ranging in intensity from mildly irritating to debilitating.
It is important to note that cramps can occur without pain. Some women experience uterine contractions without noticing or with very little discomfort. Many, however, deal with pain each month, caused by long-lasting and intense contractions. The pain from cramps is experienced when these powerful contractions cut the blood supply to the uterus, leading to a lack of oxygen to the related muscles. Fortunately, the oxygen deprivation, as well as the pain, is only temporary.
In some cases, menstrual cramps seem far too intense to be normal. Sometimes, other conditions can exacerbate or mimic this cramping. For example, a condition called endometriosis causes extreme abdominal pain, as well as severe menstrual cramping. Fibroids can also cause painful periods and heavy menstrual bleeding. Likewise, pelvic inflammatory disease can cause intense pain during menstruation.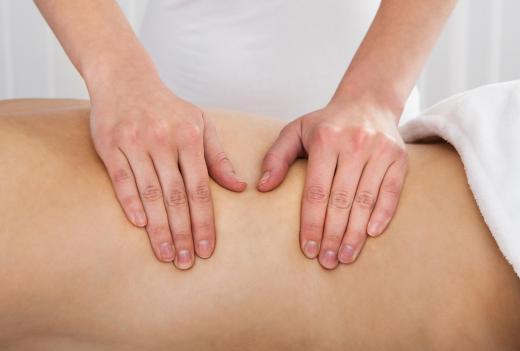 In most cases, cramps are an unfortunate, but normal, part of life for women. Treatment is typically aimed at reducing discomfort. Over-the-counter pain medications are frequently used to neutralize menstrual pain. Massage, heat application, and other home remedies are often used as well. Some women find relief from physical exercise or stretching.
For a woman who experiences debilitating menstrual cramps, a trip to a doctor is in order. A doctor or other health care provider can examine the woman and review her medical history, ruling out potentially serious causes of menstrual pain. If secondary conditions are not discovered, the doctor may be able to prescribe prescription medications for dealing with discomfort or preventing cramps altogether. For example, some women are able to avoid menstrual pain while taking birth control pills. Hormone treatments may be helpful for treating painful cramps as well.
AS FEATURED ON:
AS FEATURED ON:

By: fotomatrix

The heat from a hot water bottle can help relieve menstrual cramp pain.

By: Jacob Kearns

Birth control pills may help alleviate Menstrual cramps.

By: apops

A massage may help relieve cramps.

By: fixer00

The uterus is part of the female reproductive system.

By: Kalim

Menstrual cramps can cause intense abdominal pain.

By: Ana Blazic Pavlovic

Menstrual cramps range in severity from mildly irritating to debilitating.

By: Africa Studio

While some women only experience them occasionally, other women experience menstrual cramps every menstrual cycle.

By: ryanking999

Severe cramps during menstruation may signal endometriosis or another underlying cause.

By: apops

A reaction to birth control may cause cramps.

By: overcrew

An ice pack may help relieve pain associated with menstrual cramps.