What Causes Twitching under the Eye?
Twitching under the eye, known medically as blepharospasm, is usually not, by itself, a serious condition. It is usually caused by one or more factors that make up a person's lifestyle, such as fatigue, stress level or diet. To treat the twitching, its cause or causes must be isolated and corrected. In rare instances, under eye twitching can be caused by nerve disorders.
The main culprit in under eye twitching is lack of sufficient sleep, so if a person gets enough rest over time, the twitching should resolve itself. Fatigue is closely related to stress, another cause of twitching. Stress can result in lack of sleep. When a person is experiencing significant stress or anxiety in his or her life, eye twitching is often one of the symptoms. One of the first strategies in treating this problem should involve reducing stress level and getting plenty of rest.
Diet can play a role in muscle spasms under the eyes. Twitching under the eye is sometimes caused by nutritional imbalance or deficiency. Anyone concerned about nutritional deficiency should strive to eat a healthy diet and should talk to a medical professional before taking vitamin supplements. Other dietary factors that contribute to eye twitching include excessive use of caffeine or alcohol.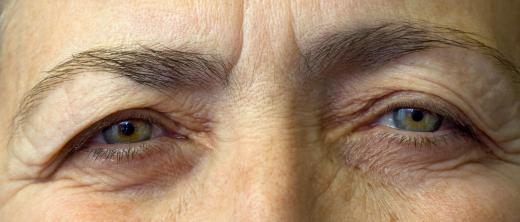 Twitching under the eye can also be the result of vision strain. People who spend a great deal of time reading on a computer screen often experience it. The condition might also be the result of needing correction of vision, such as eyeglasses or contact lenses.
Additional causes include dry eyes and allergies. Dry eyes are often a byproduct of aging, but the condition can also result from excessive use of caffeine or alcohol or spending too much time looking at computer or television screens. Allergies of the eye can cause twitching along with swelling and watering of the eyes.
In rare instances, twitching under the eye or an eyelid twitch may be caused by a neurological disorder such as Tourette's Syndrome. Another condition that causes under eye twitching is hemifacial spasm, which is caused by nerve injury and manifests as involuntary muscle spasms that affect one half of a person's face. Anyone who is experiencing under eye twitching that gets worse over time should seek help from a medical professional to make sure that the condition does not constitute a symptom of a serious medical problem.
Eye Twitch from Computer Screen
It's been said that a twitching eye is a telltale sign that somebody is lying. Mysterious allegations like this might be alluring, but there's usually a far more logical explanation available. It's more likely, for example, that the twitch is the result of too much time spent in front of a computer screen.
If you've noticed that your eye twitches when you're looking at a screen, you're not alone. Many people experience this, and there's a physical phenomenon to blame. The problem has been labeled "Computer Vision Syndrome," and it refers to the eye strain, fatigue, and dryness that are all commonly associated with computer use.
We weren't designed to look at screens all day, but of course, many of us do. Why do computer screens cause all of the aforementioned problems? Some researchers attribute it to the blue light that's emitted from computer screens. Blue light can cause eye sensitivity and twitching by damaging the photoreceptor cells in your retina. In left untreated, this could eventually lead to macular degeneration.
How To Stop Under Eye Twitching
There are several ways you can address under eye twitching and get the problem under control. If you believe that the problem is linked to your use of computer screens, you can start by investing in a pair of glasses that filter out the blue light from the screen. Blue light blocking glasses work by filtering out the light wavelengths that are emitted from blue light.
There are many other potential culprits that may be to blame for your twitchy eyes, though. As you know, stress is also commonly cited as a cause of this problem. You can reduce the overall stress level of your life by identifying the problems that commonly contribute to your stress level and taking steps to remove them from your life. If you frequently feel stressed about your job, for example, you should start looking for a new career.
Finally, if your eye twitches could be the result of a nutritional deficiency, it's time to upgrade your diet and invest in some supplements. A lack of electrolytes may be to blame, but luckily, this is an easily addressed problem. You can also rectify vitamin deficiencies by investing in B12, D, and magnesium supplements.
Under Eye Twitching Anxiety
One of the most common causes of eye twitching is circumstantial anxiety. Most people will experience anxiety at some point in their lives, but if you experience chronic anxiety, it's more likely that you will have symptoms such as eye twitching as a result.
Anxiety causes an increase in adrenaline and cortisol throughout your body. Interestingly, both of these chemicals are linked to shaking and tremors, including eye twitching. Anxiety may also be responsible for increased tension in your muscles, which can trigger spastic movements like eye twitches.
If you notice this start to happen, you should take steps to alleviate your anxiety. Breathing exercises or cold water can help you calm some of the most immediate symptoms.
AS FEATURED ON:
AS FEATURED ON:

By: Innovated Captures

Vision strain can cause twitching under the eyes.

By: Arpad Nagy-Bagoly

Dry eyes, which are a byproduct of aging, may cause twitching under the eye.

By: stokkete

Staring at a computer for too long can contribute to eye twitching.

By: Innovated Captures

A lack of sleep can result in facial spasms.

By: roblan

Lack of sleep and stress can cause puffiness, dark circles and eye twitching.

By: volff

Overconsumption of coffee and other caffeinated beverages can trigger blepharospasm.

By: Minerva Studio

When a person is experiencing significant stress or anxiety, eye twitching is often one of the symptoms.