What Causes Vulvar Dystrophy?
The external female genitalia, including the clitoris, labia, mons veneris and perineum, are collectively referred to as the vulva. One of the women's health conditions that may affect this area of the body is vulvar dystrophy. This skin condition typically manifests as vulvar skin that is too thick or thin, often with white or gray discoloration, or as reddened, painful spots or sores. Depending on the type of vulvar dystrophy, it may be caused by irritation of the vulva, excessive mental stress or the existence of a medical condition that compromises the immune system.
When vulvar dystrophy causes the skin to become too thin, the condition is known as lichen sclerosis. Often, the skin also takes on the appearance of a crumpled piece of paper. This thinner skin is prone to injury, which can cause bleeding and even scarring that may block the normal flow of urine. The opening to the vagina may also shrink, making sexual intercourse painful or impossible. Lichen sclerosis may occur in women of any age, but is most common among young women going through puberty and older women in the midst of menopause.
Lichen simplex chronicus is a form of vulvar dystrophy that leads to thickened vulvar skin. This condition is typically only present on one side of the genitalia and often results in the area turning white. Clothes that are too tight and constantly rub against the genitals may lead to lichen simplex chronicus. Patients may also cause this skin condition themselves by scratching or rubbing the vulva to alleviate itching from another source, such as a vaginal yeast infection.
Thickened white or gray spots on the vulva may also indicate squamous cell hyperplasia. As with lichen simplex chronicus, this condition may be brought on by attempts to relieve genital itching. Patients may suffer from both lichen simplex chronicus and squamous cell hyperplasia at the same time. A biopsy is therefore typically ordered to make an accurate diagnosis when a patient presents with thickened skin of the vulva. Patients who are diagnosed with both conditions may be more likely to develop vulvar cancer, so careful monitoring of their condition is indicated.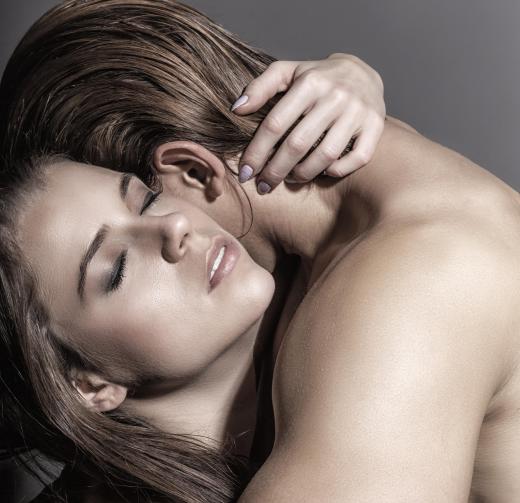 Lichen planus causes the vulvar skin to become red and irritated, with sores possibly present as well. This type of vulvar dystrophy is an immune response that may be triggered by increased stress or the presence of another medical condition such as hepatitis or ulcerative colitis. Most patients that present with lichen planus are between the ages of 30 and 60 years old.
AS FEATURED ON:
AS FEATURED ON:

By: blueringmedia

The external female genitalia, including the labium, are referred to as the vulva.

By: Ermolaev Alexandr

Vulvar dystrophy may be caused by excessive mental stress.

By: Artem Furman

Sexual intercourse may be painful for women suffering from lichen sclerosis.

By: isyste

The vulva includes the clitoris, labia, and perineum.