What does a GI Specialist do?
A GI specialist is a doctor who specializes in diseases of the gastrointestinal tract. This may include diseases and disorders that affect the stomach, esophagus, liver, gallbladder, small intestine, colon, pancreas and rectum. A specialist in this branch of medicine may go by several different names, such as GI doctor, gastrointestinal specialist or doctor, or a gastroenterologist. To become a gastrointestinal specialist, a person will need to obtain an undergraduate degree, complete medical school and a residency, and obtain a license to practice medicine.
Most people will see a GI specialist after suffering a problem of the digestive tract. The complaint may range in severity from a recurring upset stomach, indigestion, ongoing diarrhea, an onset of constipation or rectal bleeding. Frequently, a person will seek help from a specialist when symptoms such as these start to interfere with his or her normal daily activities. In most cases, the patient will be seen by a general healthcare provider first. The provider may run some generic tests to search for an answer of gastrointestinal complaints and if none are found, the patient may be referred to a specialist.
The gastroenterologist may begin with a new patient by taking a complete medical history. The doctor may spend a great amount of time interviewing the patient about previous illnesses that may or may not be related to the gastrointestinal tract. He or she may draw blood and perform a complete physical examination. The doctor is likely to pay special attention to the abdomen, by checking it for tender spots, masses, or lumps. Frequently, he or she may order diagnostic tests to make a clear diagnosis of a GI condition or disease or to rule one out.
In many cases, a GI specialist will perform many of these diagnostic tests. A colonoscopy is a minimally invasive test used to examine the colon or the large intestine and the rectum for abnormalities. In most cases, the specialist will perform this test in a hospital or outpatient clinic. The test involves using a colonscope, which is a flexible tube with a camera at the end, which allows the doctor an in-depth view of the inside of the colon. A colonoscopy may be used to diagnose diseases and conditions such as colon cancer and colon polyps; often, the specialist will remove suspicious polyps and tissues during the procedure.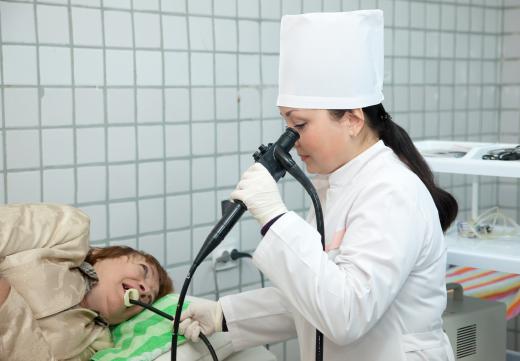 A gastrointestinal specialist may also perform endoscopies. An endoscopy uses an endoscope, which, like a colonscope, is a small flexible tube with an attached camera. Unlike a colonscope, which is passed through the rectum, a specialist will pass an endoscope through the mouth to gain access to the upper digestive system. The doctor will use this diagnostic test to diagnose ailments of the stomach, gallbladder, esophagus, and other upper gastrointestinal organs. He or she can use the results of the diagnostic test to come up with an effective treatment plan for a patient.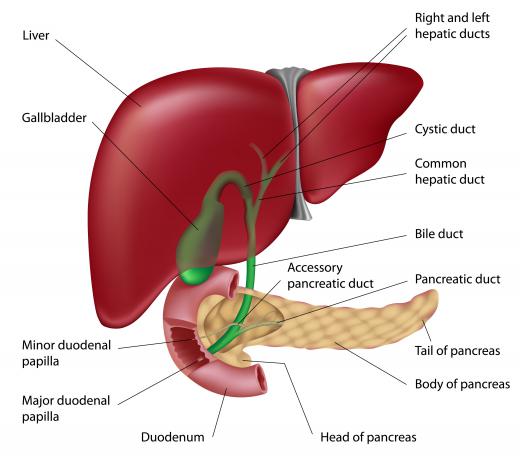 Sometimes, a gastrointestinal abnormality may only be corrected through surgery. In these cases, the specialist will typically refer a patient to a surgeon to perform the necessary procedure. He or she may present a list of qualified surgeons to the patient to choose from or recommend just one surgeon in particular. Prior to seeing a surgeon, the specialist may explain the recommended surgery to the patient, including its benefits and risks. After the surgery is completed, the patient may return to the gastrointestinal specialist to determine if ongoing treatment will be needed.
AS FEATURED ON:
AS FEATURED ON:

By: JackF

A GI specialist focuses on diseases of the gastrointestinal tract.

By: Chrispo

A GI specialist may perform a colonoscopy, using a camera to view the colon.

By: JackF

A GI specialist may perform a endoscopy, during which a camera is inserted into a patient's mouth in order to view their upper digestive system.

Several abdominal organs, including the pancreas, liver, and gallbladder.

By: Sebastian Kaulitzki

GI specialists are doctors who specialize in disease of the gastrointestinal tract.

By: maya2008

The gastrointestinal tract is the soft tissue tube that begins at the mouth and ends with the anus and includes all the digestive organs in between.