What Factors Affect Mammogram Results?
Much of a woman's anxiety about getting a mammogram screening for breast cancer can be her concerns that the mammogram results may not be accurate and may lead to a false-positive result or, even worse, a missed cancerous lump. A malignant lump appears as a white area on a mammogram image, unfortunately similar to many benign lumps and normal dense breast tissue. Some of the factors that cause inaccuracies in mammogram results include scheduling a mammogram screening for the week after menstruation ends and not wearing antiperspirant or deodorant the day of the mammogram screening procedure. Women should choose mammogram facilities and radiologists wisely. Other factors that affect a mammogram screening are beyond a woman's control, such as her age, density of breast tissue, or family history of breast cancer.
A mammogram is a type of x-ray screening of breast tissue used to locate abnormalities in breast tissue that may indicate cancerous masses. Breast tissue is made up of fibrous connective tissue and fatty tissue. Normal breast tissue shows up on a mammogram as white patches, while fatty tissue is the dark space in between. Unfortunately, normal dense breast tissue can mimic the appearance of malignant lumps, obscure the readings, or mask breast cancer. Younger women frequently have denser breast tissue on average than older women.
Some women at risk of false positive mammogram results are those who have a family history of breast cancer, women who have received radiation or chemotherapy for other cancers, and women who take estrogen. A possible reason for this may be because these women are at higher risk for breast cancer and the radiologist is being extra cautious about any suspicious mammogram results. Another possibility is that medications and hormones may cause changes in the breast tissue itself.
Mammograms miss approximately 15 to 20 percent of all breast cancers. Although many of these are visible on the x-ray and overlooked, many cancers are missed because of dense breast tissue or breast implants that obscure the results. Women with implants should tell the mammography facility when making the appointment and ask for a radiologist who is experienced in screening women who have had breast implants.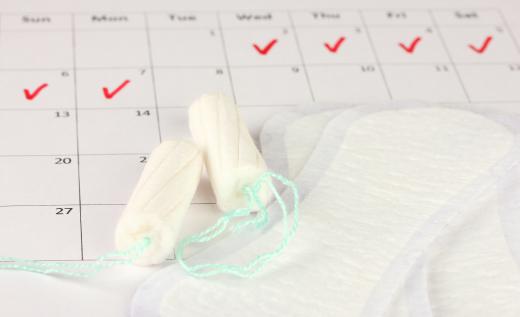 Pre-menopausal women should attempt to schedule mammograms for the week after their menstrual period. During the two weeks before menstruation, breasts can become swollen and tender. The swelling can make it more difficult to get accurate mammogram results, while the tenderness can make the woman feel more discomfort during the procedure.
Women can increase the chances that their mammogram results are accurate by choosing a facility that employs a breast imaging specialist on site and by choosing a radiologist who is frequently audited and who has completed a breast imaging fellowship. One study showed that facilities meeting these qualifications had more accurate results. Digital mammography has been shown to be more accurate than traditional mammography, so women at a higher risk for inaccurate results may wish to choose a facility that employs digital mammography technology.
AS FEATURED ON:
AS FEATURED ON:

By: Dmitry Vereshchagin

Wearing deodorant during a mammogram can cause inaccurate results.

By: Monkey Business

Breast swelling can affect mammogram results.

By: Africa Studio

Women who are pre-menopausal should try to schedule mammograms a week after their menstrual period.

By: Arto

Mammograms miss approximately 15 to 20 percent of breast cancers.

By: reineg

Pre-menopausal women should attempt to schedule mammograms for the week after their menstrual period.